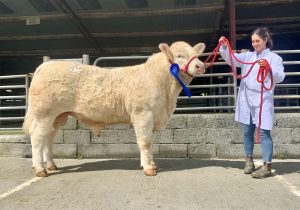 Caltun Ten Ten Twenty
Charolais bulls met a lively trade in Tuam Mart last Saturday, with five bulls selling for €5,000 or more. Just over 20 bulls went under the hammer, with 16 selling to an average of €3,960. Topping the trade at €5,400 was one of the younger lots on the day, Caltun Ten Ten Twenty from Maria Calvey in Westport, County Mayo. This classy bull is a son of Alwent Goldbar and a Pirate bred dam. Born in February 2022, he went to sale with a five star terminal index of €138 along with a carcass weight figure of +37.8kg. Having been placed second in his class, he attracted some stiff bidding before getting knocked down to a Clare suckler farmer.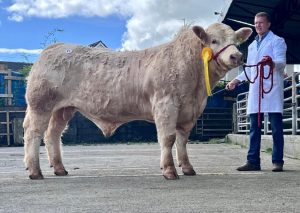 Tonroe The Real Deal ET
Next best at €5,100 was Tonroe The Real Deal ET for the Callaghan brothers from Swinford in County Mayo. This stylish 15 month old bull is a son of Pirate and a CF 52 bred dam. He offered a terminal index of €143,  along with a calving figure of 5.8% and carries one copy of the Q gene. Having been placed third in his class, The Real Deal stayed true to his name attracting significant interest around the sales ring. He was snapped up by a County Mayo suckler farmer.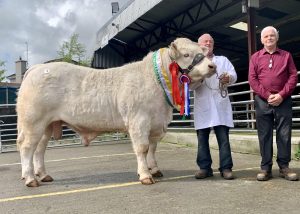 Cloughbrack Stan
The days Overall Champion went the way of Cloughbrack Stan for local breeder Mattie Kelly. Stan is a son of the French sire Chic, and a Cavelands Fenian bred cow. Born in October 2021, the Galway bred bull offered one one of the highest replacement indexes in the catalogue at €123, along with a calving figure of 2.6% on beef cows, the lowest on the day. He was knocked down at €5,000 to a local suckler farmer.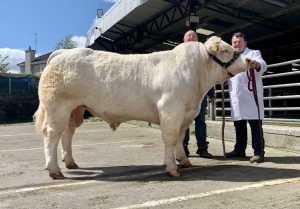 Clonmahon Seanie
Two more bulls would hit the €5,000 mark. The first to do so was Clonmahon Seanie exhibited by Eddie Daly from County Meath. A son of Artois and a Goldstar Echo bred dam, the Meath bred bull catalogued with a five star terminal index of €136 along with a well below average calving figure of 3.2% on beef cows. He went to a suckler farmer in County Mayo.
The final bull to sell for €5,000 was one of the youngest bulls on the day, Limkiln Tom exhibited by Richard Hackett from County Clare. A son of Fiston and a homebred Goldstar Echo daughter, this rising 14 month old bull sold with a page full of stars. He offered a five star terminal and replacement index along with a calving figure of just 5.5% on beef cows. He went to a County Roscommon suckler farmer.
Davron T Rex
Judge for the day John Jenning's awarded the Reserve Championship to Davron T Rex exhibited by David Nilan from Athenry. A son of Bova Sylvain and a Roughan Galant bred dam, this powerful bull carries one copy of the Q204X gene. He exchanged hands for a sum of €3,200, selling to County Westmeath.
The Society would like to wish all buyers the very best of luck with their bulls. Our final sale of Spring 2023 will take place in Tullamore Mart on Saturday the 27th of May, with 62 bulls and 9 heifers catalogued.