The Norsk Charolais group from Norway visited Ireland this week. As part of their trip they visited four pedigree Charolais herds. Their first stop was at Michael Quins Clenagh herd in New-market on Fergus, Co. Clare. The group were most impressed by the quality of the Clenagh stock and were shown wonderful hospitality by the Quin family. Some very good young bulls by Domino and Pirate really caught the eyes of the visitors.
Below: The group make a presentation to Barry, Michael and the Quin family.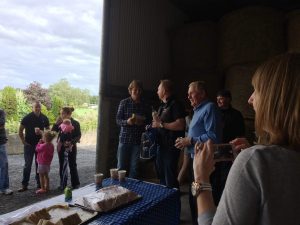 Their second visit was to Newbridge, Co. Galway to Mattie Kelly's Cloughbrack pedigree Charolais herd. Once again the group were shown some exceptional Charolais cattle and great hospitality by the Kelly's. Young calves by Goldstar Echo, Fiston and Pinay proved very interesting to the visitors. Darren Carty from the Irish Farmer's Journal was also there to give the Norwegian's a run down of beef farming in Ireland.
Below: The Kelly family with the Norwegian Charolais group.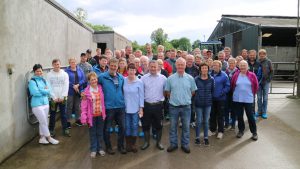 Next up was Peter O' Toole's Leagaun pedigree Charolais herd in Moycullen, Co. Galway. Here the visitors received a most warm welcome and were shown a very much french bred Charolais herd. Progeny of Panama, Loch Ness and Fort Royal proved very attractive to the visitors.
Below: The Norwegian group with Peter O' Toole and the Leagaun pedigree Charolais herd.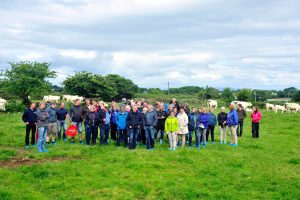 The groups final farm visit was to the Skidoo herd in Co. Dublin. The large Skidoo estate run by farm manager Donal Callery amazed many of the visitors as it looked its beautiful best on a fine Summer's day. Donal gave the group a wonderful run down of the system of production in Skidoo and their breeding policies. Some classy young females by Sesame really impressed the visitors.
Below: (left) The visitors admire the Skidoo herd (right) Donal Callery details the farms grassland management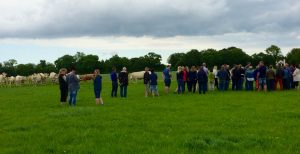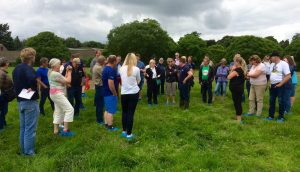 A great week was had by all involved, the society would like to thank the four herds and their families for their wonderful hospitality. Each and every one of them put on an outstanding display of Charolais cattle and made the Norsk Charolais group feel most welcome at all times.