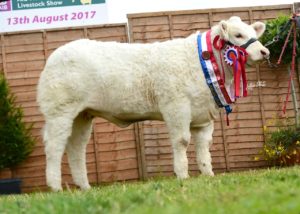 Sagesse Martha ET – Senior Female Calf Champion and Overall Champion Charolais
A massive cheer erupted around the Charolais ring yesterday as Judge's Matthew Milne and Tracey Nicoll's tapped forward Sagesse Martha ET at the National Charolais Show in Tullamore. The popular Champion looked exceptional as she was awarded the Senior Female Calf Champion and Overall National Charolais Show Champion for breeders, Brendan and Niall Canning from Rosses Point, Co. Sligo. Martha had earlier come through what was described as one of the best class of Charolais heifers anyone could possibly ask for. The September 2016 born daughter of the French bull, Adonis, has already brought the Sligo men great success this year on the local show circuit in the West.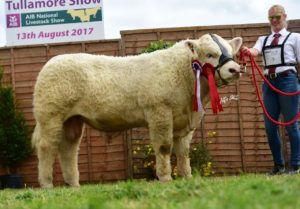 Goldstar Maradona ET – Senior Male Calf Champion and Reserve Overall Champion Charolais
Capturing the Reserve Overall Champion was Goldstar Maradona ET from Martin Ryan and family from Thurles, Co. Tipperary. This September 2016 born son of Texan gie and Goldstar Adorable, headed up a fantastic class of September born bulls before going on to claim the Senior Male Calf Champion and Reserve Overall National Show Champion. The Ryan's had a successful day all round, as they picked up three first prize rosettes in what was an outstanding show of Charolais cattle.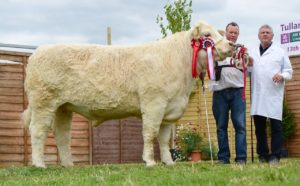 Prime Louise ET – Senior Champion 
The Senior Championship which was hotly contested by the five first prize winners from the senior classes was awarded to Benny Keating's, Prime Louise ET. This big, powerful heifer won the heifer of the year born in 2015 championship before going one better and clinching the Senior Champion of the show. A much admired heifer on the day, Louise is a January 2015 born daughter of Oldstone Egbert.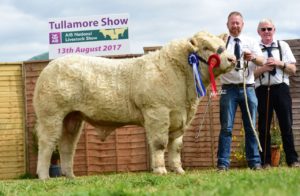 Clenagh Magnificent – Reserve Senior Champion 
Reserve Senior Champion went to County Clare breeder, Michael Quinn from Newmarket-on-Fergus for his bull, Clenagh Magnificent. This June 2016 born son of the UK sire, Alwent Goldbar, stood top of the line in a packed class of quality young bulls. The Quinn's would also take the second prize ribbon in this class with Clenagh Maserati before picking up the Reserve Senior Champion with Magnificent.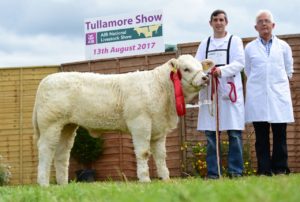 Ballylast Nora – Junior Female Calf Champion 
Donegal breeders, John and Damien Mc Elchar made the long journey from Lifford in County Donegal worthwhile as they snatched the Junior Female Calf Championship with Ballylast Nora. This March 2017 born heifer is a daughter of the legend that is CF 52.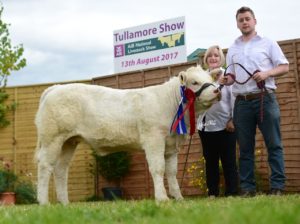 Lisnagre Nora 2 – Reserve Junior Female Calf Champion 
The Reserve Junior Female Calf Champion went to well-known Westmeath breeder, Jim Geoghegan with Lisnagre Nora ET. Nora obviously caught the eye of Female Judge, Tracey Nicoll's, farm manager at the Balthayock herd in Scotland. This January 2017 born heifer is a daughter of Major and Ballydownan Simone ET.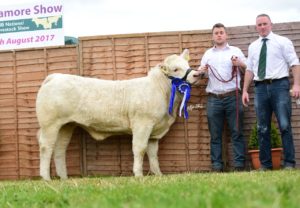 Lisnagre Mia ET – Reserve Senior Female Calf Champion
Jim Geoghegan was back at the top once again when his September 2016 born heifer, Lisnagre Mia ET stood reserve to Sagesse Martha ET in the Senior Female Calf Championship. Mia is another daughter of the French sire, Major.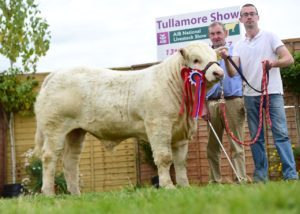 Grangwood Nugget – Junior Male Calf Champion
The competitive Junior Male Calf Championship was wrapped up by Limerick breeder, Jerry O' Keeffe with Grangwood Nugget. The January 2017 born Nugget who is a son Goldstar Echo has enjoyed a successful show season in the South winning numerous red rosettes along the way.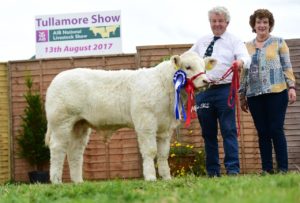 Ballydavis News ET – Reserve Junior Male Calf Champion
Standing reserve in the Junior Male Calf Championship was Laois breeders, Michael and Kathleen Hargroves with Ballydavis News ET. The March 2017 born son of Bova Sylvain came through a powerful class of young bulls, despite being the youngest calf in his class.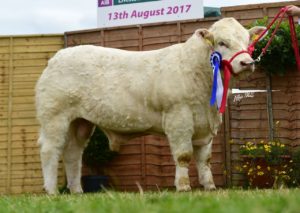 Dalehill Macbeth – Reserve Senior Male Calf Champion
Matthew Milne of the Elgin herd in Scotland found his Reserve Senior Male Calf Champion in the form of Dalehill Macbeth. This October 2016 born son of Cavelands Fenian who was exhibited by Basil Kells from County Cavan was pipped to the Senior Male Calf Championship by the fore mentioned, Goldstar Mardaona ET.
Class Winners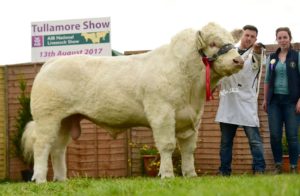 Gretnahouse Lord – Best Charolais bull born on or before the 31st of December 2015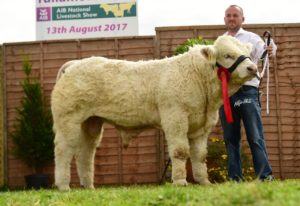 Brocca Matchmaker ET – Best Charolais bull born in November 2016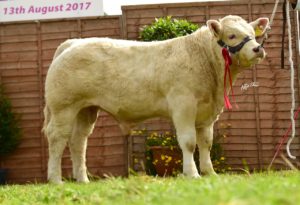 Crossmolina Myles – Best Charolais bull born in December 2016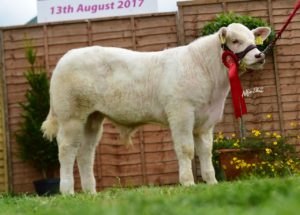 Cornadrung Noah – Best Charolais bull born on or after the 1st of April 2017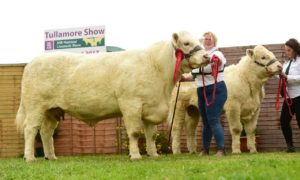 Goldstar Falkland – Best Charolais female in calf or with calf at foot born on or before the 31st of December 2014
Ballingrogy Meadbh – Best Charolais female born on or between the 1st of January 2016 and the 31st of August 2016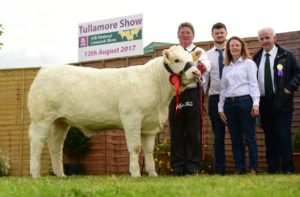 Drumcullen Maeve – Best Charolais female born on or between the 1st of October 2016 and the 15th of November 2016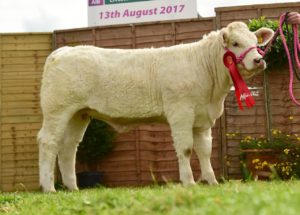 Culla Mercedes – Best Charolais female born on or between the 16th of November 2016 and the 31st of December 2016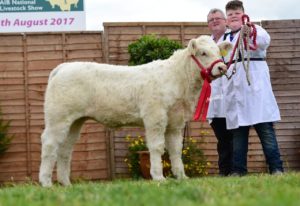 Faus Nevada – Best Charolais female born on or after the 1st of April 2017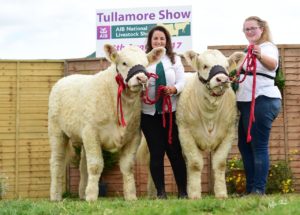 Goldstar Charolais – Best pair of Charolais under 12 months of age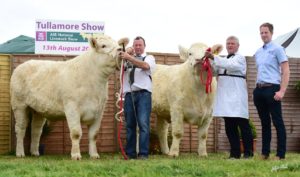 Prime Charolais – Best pair of Charolais over 12 months of age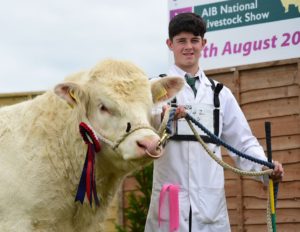 Daniel O' Connor – Winner of the young breeder's showing class (12-15 years)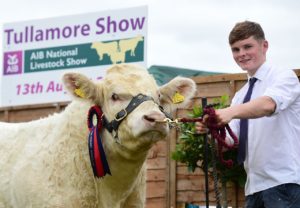 Niall Flynn – Winner of the young breeder's showing class (16-21 years)