Last Saturday, Tullamore Mart played host to the first Elite Charolais Heifer show and sale. The decision to take Heifers out of the Christmas Cracker and give them a sale of their own, was not an easy one. However, the sale provided one of the best show of Charolais Heifers seen for some years, and more importantly, a wonderful trade. Lively bidding all day, seen 82% of the Heifers on offer sell to an average of €3,798. Despite having a greater number of Heifers on offer than each of the last three Christmas Cracker sales, the clearance rate was well up on each of the three years. In 2014, 70% of Charolais Heifers sold to an average of €3,545. In 2015, 80% of Heifers sold to an average of €3,562. These gains being made can only be seen as positive for the Charolais Breed. It must be said however, the real highlight of the day came in the form of Roughan Madilin, the 13 month old Heifer who sold for €14,500.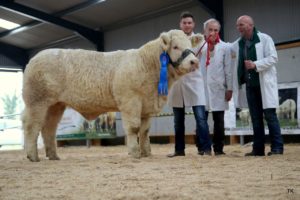 Roughan Madilin who sold for the top price of €14,500
Bred and exhibited by Pat Mc Clean from County Donegal, Madilin started a bidding war between a number of pedigree Charolais breeders from different parts of Ireland. Coming out on top and securing the Roughan Dix De Coe daughter, was the Bostonia herd based in Enniscrone, Co. Sligo. Despite only being placed second in her class  on Saturday, Madilin has enjoyed a successful show season, winning the Donegal Charolais Club Calf Championship back in August. Her stable mates, Roughan Linda and Roughan Louise 4 wrapped up a memorable day for the Donegal breeder, as they found new homes at €3,500 a piece. Linda is a daughter of the powerful Roughan Galant, while Louise is a daughter of the fore mentioned, Roughan Dix De Coe.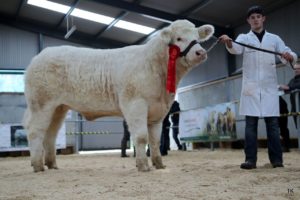 Liscally My Fair Lady 6 ET who sold for €8,000
Next best at €8,000 was the 14 month old, Liscally My Fair Lady 6 ET from Lewis and Jon Regan, Tawley, Castlegal, Co. Leitrim. This sweet, feminine Heifer attracted a lot of attention all day, before being wrapped up by a breeder in County Tipperary. Sired by Balmyle Vagabond, this Lady has also enjoyed an eventful show season, picking up rosettes around the west of Ireland all year. The North Leitrim men had a wonderful day in the sales ring, with their next two offerings selling for €4,700 and €3,150, respectively. First up at €4,700 was Liscally Liscally 3 ET, a October 2015 born daughter of Liscally Eti. She sold in calf to the high performance sire, Blelack Digger. Buyer here was Craig Cullen from County Roscommon. At €3,150 was Liscally My Fair Lady 2 ET, a full sister to the €8,000, My Fair Lady 6 ET. She went North with Rory Mc Keever from County Armagh.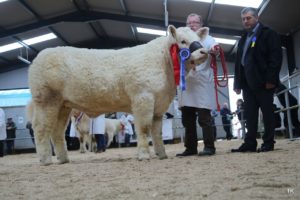 Reserve Junior Champion, Goldstar Mirabelle who sold for €6,500
Hitting the €6,500 mark was the Reserve Junior Champion, Goldstar Mirabelle from Martin Ryan and family, Thurles, Co. Tipperary. This October 2016 born daughter of Texan gie, headed up an outstanding class of Heifers earlier in the day under Judge, Alwyn Williams of the Castllemawr Charolais herd based in Gwynedd, Wales. She sold to a fellow County Tipperary breeder. The Goldstar herd success did not stop there, with Mirabelle's team mates, Melodie and Melanie selling for €4,350 and €3,450, respectively. At €4,350 was the Virtuose daughter, Goldstar Melodie, she sold to County Cork breeder, Maurice Keane. Then at €3,450 was the Lisnagre Elite daughter, Goldstar Melanie, selling to Joesph O' Reilly from Kenagh, Co. Longford.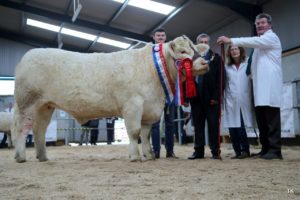 Senior Champion, Drumcullen Lily who sold or €6,000
County Offally breeder, John Fleury clinched the Senior Champion of the show with Drumcullen Lily. This big, powerful Heifer exchanged hands at €6,000, selling to breeders from Tuam, Co. Galway. The March 2015 born daughter of Vexour Granville, sold in calf to the easy calving Dovea AI sire, Bivouac. Mr Fleury also sold Drumcullen Mimosa for €4,000. This 15 month old daughter of the herd's former stock bull, Camber Jameson, also went West, with Patrick Clarke from County Galway.
The Geoghegan family from Streamstown, Mullingar, Co. Westmeath sold their four offerings for an average of €3,825. The first to go under the hammer at €5,400 was Lisnagre Lovely Lady ET, a 23 month old daughter of Prime Roberto. She sold to County Roscommon breeder, Roger Mc Hugh. Next up was her full sister, Lisnagre Longford Lady ET. She was snapped up by Stephen Mohan from County Monaghan at €4,300. The two year old, Lisnagre Lavender ET found a new home at €3,200. This daughter of Indurain sold to Joseph O' Reilly from Co. Longford.  Their final offering, Lisnagre Mona who is a daughter of the home bred, Lisnagre Hansome was knocked down at €2,400 to Patrick Fahy from County Galway.
Michael Quin from Newmarket On Fergus, Co. Clare hit the headlines early on, as his three lots into the ring averaged out at €4,333. The first to go under the hammer at €5,000 was Clenagh Lady 2 ET, a daughter of Dromiskin Viceroy and the prolific cow, Clenagh Tranquil. This well bred Heifer sold in calf to the NCBC sire, Cavelands Fenian. Her stable mates, Clenagh Lexie and Clenagh Libby then traded at €4,000 each. Lexie, who is a daughter of Cottage Devon, sold in calf to the 2016 Christmas Cracker Champion, Clenagh Lyle. Buyer here was Conor Mitchell from County Laois. Her Partner, Libby who is a daughter of Elgin Fergal, also sold in calf to Clenagh Lyle. This one was wrapped up by Sean Tobin from County Offaly.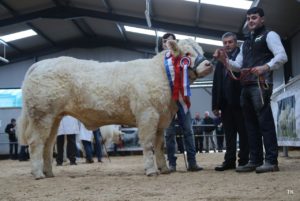 Junior Champion, Crossane4 Milly
Judge, Alwyn Williams found his Junior Champion in the form of Crossane4 Milly, exhibited by the Mc Govern brothers from Fivemilebourne, Co. Sligo. This catchy 17 month old daughter of Liscally Eti, left the ring unsold at €6,200. However, her herd mates enjoyed a buoyant trade, with the hammer falling for both at €4,800 and €3,600, respectively. Selling at €4,800 was the Alwent Goldbar daughter, Crossane4 Mia. This 17 month old Heifer sold to Andrew Mc Cammond from Northern Ireland. At €3,600 was the March 2015 born daughter of Nippur, Crossane Lily. She sold in calf to the NCBC sire, Cavelands Fenian.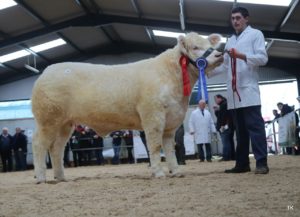 Reserve Senior Champion, Gallaway Malissa who sold for €4,700
Michael Kiernan from County Leitrim was awarded the Reserve Senior Champion with Gallaway Malissa, a daughter of the UK sire, Thrunton Flyingscotsman. Malissa went on to sell for €4,700, falling to Liam Ruddy from Strabane, Co. Tyrone.
Other leading prices on the day included:
€4,100 for Cornadrung Laurel by Lyonsdemesne Tzar exhibited by Tom and Karl Farrell
€4,000 for Fieldview Limelight by Inverlochy Ferdie exhibited by David Erskine
€3,600 for Luddenmore Miss Veronica by Maerdy Sinndar exhibited by Michael Sheahan
€3,600 for Grangwood My Lady by Grangwood Jack exhibited by Jerry O' Keeffe
The next Society show and sale is the Christmas Cracker on Saturday the 2nd of December in Elphin Mart, Co. Roscommon. Download catalogue here – Download PDF Catalogue