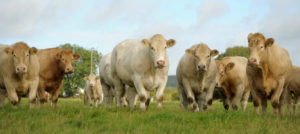 The Irish Charolais Cattle Society and Dawn Meats will run a Carcass Competition for pedigree registered Charolais cull cows and pedigree registered Charolais bulls under 16 months of age, on the week beginning the 19th of February 2018. The stock will be slaughtered in Dawn Meats, Rathdowney and Ballyhaunis.
Dawn Meats will pay 8c/kg on top of the national average base price for the previous week. All stock must have a fat score of 2+ or more, must be Quality Assured, and a copy of the Pedigree Certificate must accompany the animal's passport to qualify for the 8c/kg bonus. The ICCS will pay prize money as follows to the owners of the winning Carcasses in each section:
Bulls: 1st. €250 2nd. €200 3rd. €150 4th. €100 
Cows: 1st. €250 2nd. €200 3rd. €150 4th. €100
Stock will be judged on what Carcasses best meet market requirements. The winning Carcasses will be selected from entries in both Factories.
To book stock in to either Factory, please contact:
Dawn Meats Ballyhaunis – 0949632400
Meadow Meats Rathdowney – 050546288