Last Saturday's sale in Tullamore Mart took place in most unusual and surreal circumstances, with no pre-sale show, buyers were only allowed view bulls from 10 am – 12 noon and only a limited number of registered buyers were allowed entry to the Sales ring at any one time. Thanks to the co-operation of the exhibitors, customers and most of all Tullamore Mart, the sale ran extremely smoothly. For the first time since the Covid-19 pandemic hit, buyers had the option to bid from the ringside and online at the same time. This resulted in a lively trade for Charolais bulls right throughout the day. Overall, 71% of the bulls forward sold to an average of €3,000. It must be noted that many of the bulls catalogued had been purchased privately on farms prior to the Sale. The fact that there were more buyers registered than bulls present, clearly showed the demand for Charolais bulls.
Topping the trade at €5,800 and stealing the show was the youngest bull of the day, Cattanview Powerhouse exhibited by Tim Higgins from County Leitrim. At just 12 months old, this young Fiston son out of a Noaille bred dam catalogued with an impressive set of indexes. He carries a five star replacement index of €157, a five star terminal index of €177 and a calving figure of just 5.8%. After attracting bids from numerous online customers and the ringside, Powerhouse was eventually knocked down to Michael Brady, a suckler farmer from County Galway.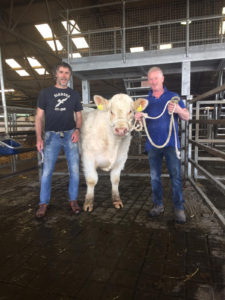 Cattanview Powerhouse who sold for the top price of €5,800, shown by exhibitor Tim Higgins and handler Paul Fahy
Next best in the sales ring was Colomane Popeye, the property of John Ward from County Cork. This powerful 16 month old bull is a son of the home bred, Colomane Mr Right, with Cottage Devon on the dam's side. Carrying a five star terminal index of €159, Popeye caught the eye of local man Henry Moody who secured him with a bid of €5,300.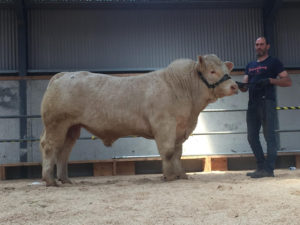 Colomane Popeye exhibited by John Ward
Jerry and Kay O' Keeffe from Knocklong in County Limerick then received a call of €4,000 for their 15 month old Grangwood Pasha ET. A son of Goldstar Echo and an Enfield Picasso bred dam, this bull carries a five star terminal index of €156 and a calving figure of just 4.7%. Wrapping this one up was Pat Lawlor from County Kildare. Not far behind Pacha at €3,800 was Terryville Polo exhibited by Patsy Lynch from Moville, Lifford, Co. Donegal. This classy son of Cavelands Fenian and a Crossmolina Euro bred dam displayed a five star terminal index of €152 and a calving figure of just 5.7%. Barry Connaire from County Galway had the final call on this one.
Other leading prices from Saturday's Sale included:
€3,700 for Cloughbrack officer sired by Cavelands Levi and exhibited by Mattie Kelly, Newbridge, Ballinasloe, County Galway
€3,700 for Terryville Organdi sired by Cyrano and exhibited by Patsy Lynch from Moville, County Donegal
€3,600 for Crossmolina PJ sired by Cloverfield Excellent and exhibited by Alan Wood from Crossmolina, County Mayo
€3,400 for Inchiquin Obama sired by Glen Leon and exhibited by Patrick Daveron from Ower, County Galway
€3,100 for Aquanchoua Pat sired by Utrillo Mic and exhibited by Peter Mc Laughlin from Redhills, County Cavan