Winning the small herds category of this year's suckler herds competition is Tom Fitzmaurice based in Derrynacong, County Mayo. This herd is the perfect example of what a Charolais stock bull can do as a terminal sire with different cow types.  Tom farms on his own and keeps approximately 20 suckler cows. The cows are a mix of Simmental, Limousin and Charolais crosses. They are all run with the herds Charolais stock bull, with all cows calving down in Spring.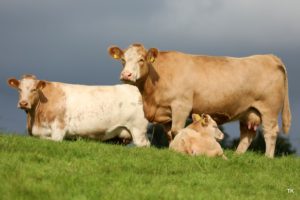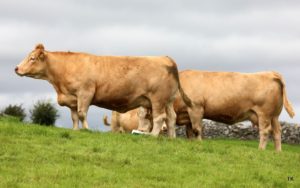 Examples of the cows on Tom's farm
Tom Fitzmaurice is well known in his area for producing top quality Charolais weanling's on an annual basis. For the last four years he has sold his Charolais cross weanling bulls at the show and sale in Castlerea Mart. Three out of four of those years Tom has picked up the overall champion of the show, as well as achieving the top price on all three occasions. For anyone who has been to Castlerea Mart for their annual Show and Sale in September, they will understand this is quite an achievement. A real stronghold for top quality Charolais weanlings. The weanling heifers are usually sold off farm to repeat customers. Tom explains 'I have any amount of customers for my Charolais weanlings. The same men have been buying from me for years.'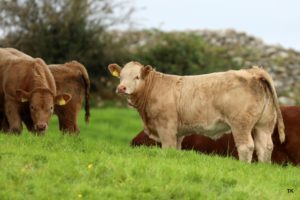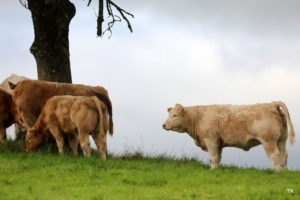 Typical examples of Charolais cross weanlings on the farm
The stock bulls used on the farm for the last number of years can only be described as real terminal hitters. The current stock bull is Oghamstone Leo, a son of Pirate, out a CF 52 bred dam. Leo was bred by Michael Finnegan in County Mayo. Tom purchased Leo at the 2016 Premier Show and Sale in Elphin for €3,400, when he was just 14 months old. The stock bull prior to this was the well known AI sire, Tonroe Eminem, a son of CF 52 out of a Pirate bred dam. Eminem was bred by the Callaghan brothers in Swinford, County Mayo. This Pirate/CF 52 combination has obviously worked extremely well on the farm. All replacement females are bought into the herd. Tom points out that he carefully selects only the best replacements for breeding. He explains 'If I see a nice breeding type heifer in the Mart, I will try to buy her.'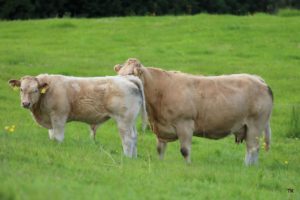 Charolais cross cows and calves on the farm
Last year Tom's weanling bulls sold for an average of €1,152 at an average weight of 390kgs. These weanlings ranged from 7 – 8 months old. His overall champion of the show weighed 445kgs and sold for €1,440. The heifers were sold off farm at an average of €900, at an average weight of 300kgs. The average age of these heifers was just 7 months old. This year's weanling bulls will once again go for sale at the annual show and sale in Castlerea Mart.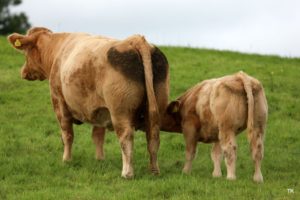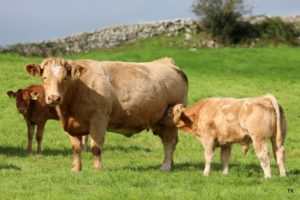 Examples of cows and calves on the farm
Not only is this herd producing outstanding weanlings, it's overall efficiency is exceptional. The average calving interval of the herd is 356 days, placing it in the top 10% nationally. The number of calves/cow/year being produced sits at 1.03, placing the herd in the top 5% nationally. The last four cows to be culled within the herd were sold in Castlerea Mart, selling for an average of €1,680 at an average weight of 880kgs.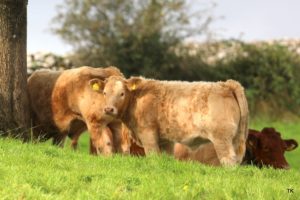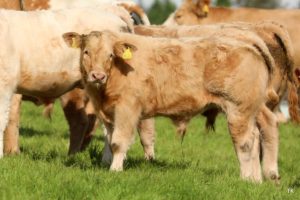 Charolais cross weanlings on the farm
This herd was selected as the overall winner in the small herd's category as it has just about everything you could possibly want in a suckler herd. The cows provide milk, fertility, calving ability, longevity, low maintenance and cull value. The Charolais stock bull brings calving ease, weight gain, shape, colour, style and quality. The combination of both makes this herd sustainable, efficient and profitable. Congratulations to Tom on creating and managing this wonderful suckler herd.