The Society's annual April Show and Sale of Charolais bulls which was held in Tullamore Mart recently saw 12 bulls sell for €5,000 or more. Once again, quality bulls were highly sought after, with indexes and calving figures also proving important tools in buyer's selection process. Overall 33 bulls sold to a strong average of €4,408, with a top price of €9,000.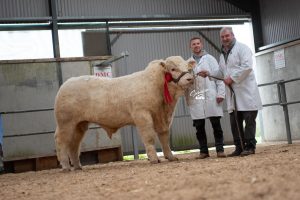 Cuillmore Tyson
Leading the trade at €9,000 was Cuillmore Tyson, one of the youngest bulls in the yard at just over 14 months old. The property of Thomas Keane from Westport, this stylish young bull is a son of the old favourite Pirate and a Cavelands Fenian bred dam. He catalogued with a five star terminal index of €150 and an attractive calving figure of 4.9% on beef cows. He also carries one copy of the Q204X gene. Tyson was snapped up a well known suckler farmer from County Galway.
County Westmeath breeder John Barry Moran left Tullamore a happy man after trading Brocca Seamie ET for a sum of €7,500. Seamie is the progeny of another old favourite, Domino, going back to Jupiter and Indurain. Born in December 2021, he offered a terminal index of €156 along with a whopping carcass weight figure of +39.5kgs. He will take up residence on a suckler farm in County Roscommon.
Glenree Sam
Next best in the money was the Overall Junior Champion, Glenree Sam, at €6,200. This one was exhibited by John Anthony O Grady from County Galway. Another December 2021 born bull, Sam is a son of the High performance UK sire, Blelack Digger and an Elgin Davinci bred dam. The Galway bred bull displayed one of the highest terminal indexes in the catalogue at €184. He sold South to County Tipperary.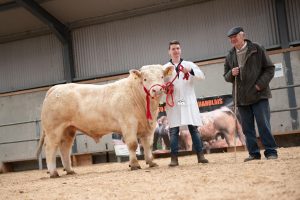 Droumadesert Timmy
It was a worthwhile journey for Elizabeth O' Leary from County Kerry, who parted company with Droumadesert Timmy for €6,100. Born in January 2022, Timmy is a son of Goldstar Othello and an Enfield Newlook bred dam. He offered one of the highest carcass weight figures in catalogue at +46.8kgs, as well as carrying one copy of the Q gene.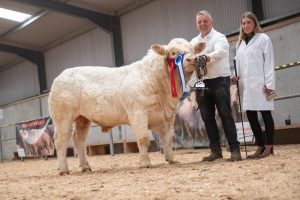 Scardaune Top
Hitting the €6,000 mark was Scardaune Top exhibited by Daniel Conway from County Mayo. Having picked up the Reserve Junior Championship, this 15 month old bull went to sale displaying a catchy terminal index value of €170. A son of Roughan Pearse and a Derryowen Harvey bred cow, he offered a calving figure of 5.3% on beef cows and carries one copy of the Q gene. He sold to a suckler farmer in County Kildare.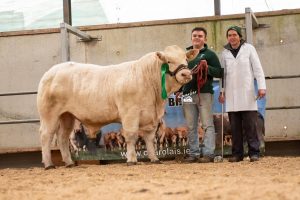 Carrowkeel08 Sergio
Trading at €5,800 was the Fiston bred son Carrowkeel08 Sergio, exhibited by Thomas Gormley from County Roscommon. This September 2021 born bull came to sale with a page full of stars along with a calving figure of 4.9% on beef cows. He was wrapped up by a County Clare suckler farmer.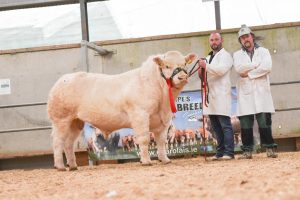 Larahill Simon ET 
Two bulls went under Tom Cox's hammer at €5,600. The first to do so was Larahill Simon ET, exhibited by John O' Connor from County Westmeath. A son of the old French sire Picador and a Ballydownan bred cow, Simon sold with one copy of the Q204X gene.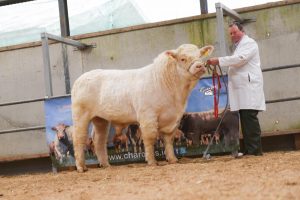 Kilvilcorris Stetson 
Selling for the same price tag of €5,600 was Kilvilcorris Stetson for Matt and PJ Ryan from County Tipperary. Offering one of the lowest calving figures in the catalogue at 2.5%, this December 2021 born bull is a son of Pirate and a Cavelands Fenian bred dam.
Not far behind at €5,500 was Bonnavella Shire exhibited by Martin Killeen from County Clare. Another December 2021 born bull, Shire is a son of the popular NCBC sire Fiston and a Thrunton Bonjovi bred dam. He boasted one of the highest terminal indexes values on the day of €180.
Other leading prices were:
€5,000 for Whitepark Tommy exhibited by Patrick Hillary from County Galway
€5,000 for Colomane Tornedo ET exhibited John Ward from County Cork
€5,000 for Tinneygarney Tarzan ET exhibited by John P Mc Donald from County Carlow
The next Society sale takes place in Tuam Mart on Saturday the 6th May, with 38 bulls on offer. Catalogue for the sale can be found here – Tuam-Sale-Catalogue (1)