This year the Irish Charolais Cattle Society was well represented at the Ploughing Championships with prize winners from their national show along with prize winners from summer shows around the country all year on display. As well as this, there was an array of top quality commercial Charolais cattle on view which attracted a lot of positive attention.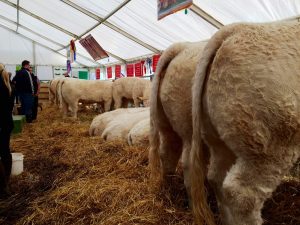 Line up of cattle on the Charolais stand
A major highlight on the stand this year was a raffle for the well-bred pedigree Charolais heifer Lisnagre Libby. This heifer was kindly donated by Jim and Catherine Geoghean from Streamstown, Mullingar, Co. Westmeath in loving memory of their grandson Conor Greene. The raffle was a major success raising a wonderful €17,120. All proceeds went directly to Our Lady's Children's Hospital, Crumlin. The heifer was won by young 16 year old Fintan Mc Cormack from Drumaney, Co. Westmeath.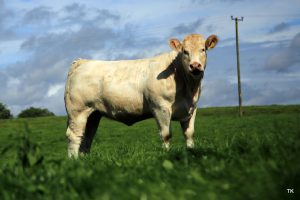 Raffle heifer Lisnagre Libby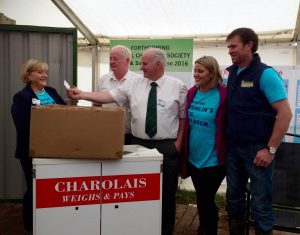 President of the ICCS Kevin Maguire picks out the winning ticket and hands it to Catherine Geoghean. Also in picture is husband Jim Geoghean, and Cora and Eddie Greene.
Another attraction at this year's stand was the launch of the 2016 Charolais yearbook which was released specially for the event, packed with news on past and upcoming events within the Charolais breed. We would like to thank all breeders who displayed cattle on the stand and everyone who helped in making the event a success.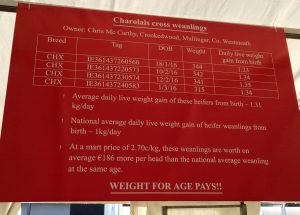 Commercial Charolais weanlings on the stand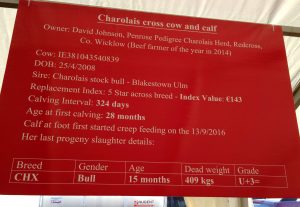 Charolais cross cow and calf on the stand