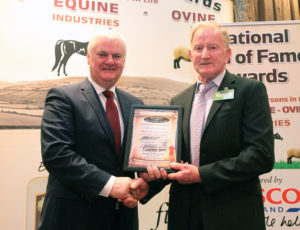 John Conroy receiving his award from GAA President Aogan O' Fearghail
This year the Irish Charolais Cattle Society nominated John Conroy from Rahan,Tullamore, Co. Offaly for the National Hall of Fame Award.  Together with his wife Rose, John keeps a small number of pedigree Charolais alongside his suckling cows in Ballindrennan. The majority of the stock is 75% Charolais, with some tillage harvested annually, mainly for stock feed on the farm.
John first got interested in Charolais in the late eighties, when he purchased an in calf heifer in west Clare. That animal would go on to breed exceptionally well for John and more importantly bring a lot of good luck with her. John explained "she was the foundation for where I am today". He recalled on the time when some of their stock went into the Tully Test Performance Centre. He found the results from there extremely interesting and educational.
John is best known to everyone as the man who has consistently steward and help out at society shows and sales over the years. Many breeders have always commented on the hard work and efforts put in by John at Society sales to insure they ran like clockwork. This year John decided to retire from his duties at the Charolais Society sales, already his presence is missed. John elaborated "I enjoyed being involved with the Charolais Society and its activities, sales, shows, etc."
He concluded by stating "The Charolais cattle are a very popular animal at any age, which is why they consistently top the market." The Irish Charolais Cattle Society was proud to nominate John for the 2017 award and wish him all the best in the future.