The Irish Charolais Cattle Society are hosting two YDP workshops / Open days on two of Ireland's leading pedigree Charolais herds in the month of June. The first of which will take place at the Bostonia herd in Enniscrone, County Sligo on Sunday the 11th of June. The Bostonia herd is owned by the Feeney brothers and managed by Darragh Mc Manus. The farm overlooks the Atlantic Sea coastline and is a beautiful spectacle on the dullest of days. The herd itself was established a few years ago and has produced numerous champions since, including the 2014 Christmas cracker junior male champion, Bostonia Indigo who sold for €10,200 and the 2016 Christmas cracker female champion, Bostonia Joy. In February of this year they acquired the 25,000gns Gretnahouse Lord at the Stirling bull sales as their new herd sire. The farm is located just outside Enniscrone, on the main Ballina road on the right hand side. It will be sign posted on the day from Enniscrone. Eircode: F26F5N2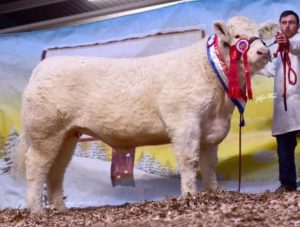 Bostonia Joy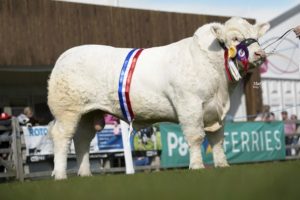 Gretnahouse Lord
The second event takes place on Jim and Catherine Geoghean's Lisnagre pedigree Charolais farm in Streamstown, Mullingar, Co. Westmeath on Saturday the 24th of June. The Lisnagre herd needs no introduction in the Charolais world, having consistently been at the top of Charolais sales throughout Ireland over the last number of years. The herd would be best known for producing the well known AI sires, Lisnagre Elite and Lisnagre Hansome. Recent successes in the sales ring included, the junior male champion at the 2015 Christmas cracker, Lisnagre Jasper who sold for €13,500 and the senior male champion at the 2016 Premier sale, Lisnagre Jessy who sold for €10,500. The farm will be sign posted from Streamstown on the day. Eircode: N91WC9R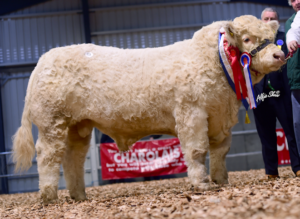 Lisnagre Jasper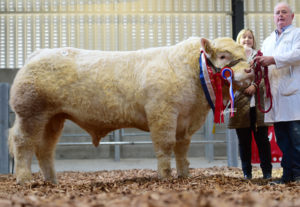 Lisnagre Jessy
Both events are aimed at educating young Charolais enthusiasts on all aspects involved in preparing pedigree Charolais cattle for shows and sales. As well as this, fellow breeders and spectators, both young and old will get the opportunity to walk through both highly successful herds.
Both days will run as follows:
Start – 11 am
Washing, clipping and grooming demonstrations
Leading, handling and show ring etiquette
Breeding and feeding practices implemented in both herds.
Stock judging and guess the weight competitions for all those aged between 12 and 21 years old. (Juniors 12 – 15 years old) (Seniors 16 – 21 years old). The winners of the stock judging competition from the senior section on both days will go forward to "Shadow Judge" in the ring's at this year's National Charolais Show, which takes place in conjunction with the AIB National Livestock Show in Tullamore on Sunday the 13th of August. There will be two ring's at this year's National Charolais Show, so one will get the honor in the female ring and the other in the male ring.  
Raffle of official Irish Charolais Cattle Society merchandise, such as Jackets, body warmers and top Charolais AI straws for all those present.
3 pm – Finish with a walk through both herds.
There is no charge into either events and food catering vans will be available on site.
Finally, everyone is welcome to come along to both events. We look forward to seeing you there!!