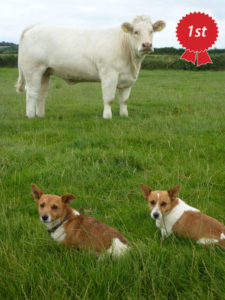 The Society is running a photographic competition for this year's annual Charolais yearbook.
Whether it be relaxing in the summer sunshine or dashing through the winter snow, please submit any pictures of your Charolais cattle that you feel is in with a chance of winning.
The winners will receive an official Charolais Society Jacket and have their picture included in this year's annual Charolais yearbook.
Entries close on Friday the 28th of July 2017.
Please submit your pictures to irishcharolaispictures@gmail.com
Please be aware that if you submit a picture, suitable pictures will be used for promotion of the breed. The winning pictures will also be published on our Website, Facebook and Twitter pages.
Please see below examples of some wonderful pictures we have received in the past…