The Charolais breed has got of to a wonderful start in the summer shows in the south of Ireland. One of the early shows of the year was the Cork Summer Show, were Jerry' O Keeffe from Knockong, Co. Limerick took top honors in the Charolais section with his young bull calf, Grangewood Nugget ET.  The January 2017 born Nugget then went one better in the overall Interbreed championship, winning the reserve overall champion of the show. A great achievement for the five month old Goldstar Echo son.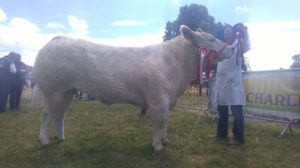 Interbreed champion in Charleville sired by Lanzac
Next up was Charleville show which took place last weekend. Taking center stage here was Shane Giltinane's Charolais X heifer sired by Lanzac. This impressive heifer won the commercial champion before being crowned the overall interbreed champion of the show. Standing next to her for the reserve interbreed championship was Martin Ryan's cow, Goldstar Haidi, accompanied by her bull calf, Goldstar Noah. Following on from his success in Cork show, Grangewood Nugget ET was back in winning form as he picked up the male Charolais champion and the interbreed calf champion of the show for his owner, Jerry O' Keeffe.