It was always going to be a buyers market in Tullamore on Saturday last, with 135 bulls catalogued to go under the hammer. However, with many lots selling privately prior to the sale and others destined for the Christmas Cracker on December 2nd, the number of bulls present was substantially less than catalogued. In total, 45 bulls found new homes, selling to an average of €3,610. The demand for quality Charolais cattle in the commercial market clearly drove buyers to be selective with their choice of bull.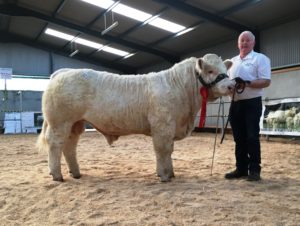 Lisnagre Mc Stay ET who sold for the top price of €7,400 with breeder, Jim Geoghegan
The trade peaked at €7,400 for a 13 month old bull from well known Westmeath breeder, Jim Geoghegan. Leading the way for Jim was Lisnagre Mc Stay ET, a son of the renowned French sire, Major and the legendary Ballydownan Simone ET. Mc Stay carries a five star terminal index of €148 and a calving figure of 10.9%. Mc Stay won the final class of the day in the pre-sale show under Judge, David Bothwell of the Killadeas herd based in Enniskillen. He was knocked down in the sales ring to County Longford suckler farmer, James Donnelly.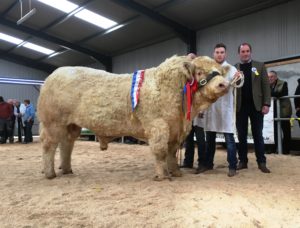 Champion bull Roughan Malachi who sold for €7,200 with Judge, David Bothwell
The pre-sale show consisted of 10 classes which were all fiercely contested as always. Coming out on top was Roughan Malachi exhibited by Pat Mc Clean from Newtowncunningham, Lifford, Co. Donegal. This outstanding specimen of the breed is a son of Roughan Galant and Roughan Esprance, a daughter of Roughan Verygood. After a lively bidding contest, Malachi was eventually secured by the Bostonia Charolais herd in Enniscrone, Co. Sligo. The March 2016 born powerhouse sold with a five star replacement index of €72, a four star terminal index of €126 and a calving figure of 8.2%.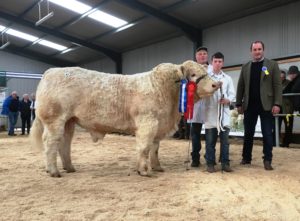 Reserve Champion Williamstown Meilard who sold for €6,300
Next best in the sales ring at €6,300 was Williamstown Meilard from Westmeath man, Aidan Farrell. This classy son of Meillard Rj was tapped out as the Reserve Champion of the show earlier in the day. The 16 month old bull carries both CF 52 and Excellent in his back pedigree. Securing this promising young bull was Billy Gubbins from Kilfinane, Co. Limerick. Aidan Farrell had an exceptional day in the sales ring when his other first prize winner, Williamstown Mixey flew to €5,800, selling to County Roscommon suckler farmer, Michael Connellan. This 16 month old bull looked every bit as good on paper as he did in reality. A son of Pirate and a Lyonsdemesne Tzar bred dam, Mixey sold with five star terminal and replacement index along with a calving figure of just 6.9%.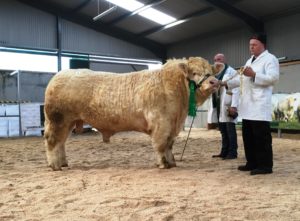 Roughan Marcus who sold for €6,000
Hitting the €6,000 mark was Pat Mc Clean's next offering, Roughan Marcus. This March 2016 born son of the fore mentioned, Roughan Galant sold with a five star terminal index of €154 and a calving figure of 7.4%. Snapping up Marcus was Brian Cassidy from Roslee, Co. Fermanagh. Pat had a successful day at the office, selling his four bulls to an average of €5,000.
County Cork breeder, John Ward made his trip worthwhile all the way from Bantry, as he sold his May 2016 born bull, Colomane Maximus for €5,600. This thick, well made son of the former Dovea AI sire, Limkiln Hulk possesses a whopping terminal index of €161. Securing this one was fellow Cork man, Robert Good.
The Quinn family from Edenderry, Co. Offaly sold their three lots to an average of €4,100. Topping their trade at €4,900 was Ballym Mozart sired by CF 85. This April 2016 born bull headed west with Clare suckler farmer, John Mc Cormick. Ballym M+M then traded hands at €4,400, selling to Pat Vaughan from Tulla, Co. Clare. This CF 85 son carries a five star terminal index of €137 and a calving figure of 7.7%. Their final offering, Ballym Macbeth sired by Alwent Goldbar parted company at €3,000.
It would be strange if a CF 52 son did not feature somewhere along the line and one of the last bulls into the ring reminded everyone he is still right there. His 13 month old son, Tonroe Mandm from Vincent Callaghan in Swinford, Co. Mayo hit €4,800, selling to David Creighton from County Roscommon. This bull sold with a performance packed pedigree, which included a terminal index of €186, a replacement index of €53 a calving figure of just 6.2%.
Killoneen Mighty exhibited by local man, Thomas O' Rourke from Daingean then exchanged hands at €4,250. This 17 month old son of Lisnagre Hansome sold with a solid set of indexes, including a terminal index of €152, a replacement index of €78 and a calving figure of 10.2%. Buyer here was a suckler farmer in County Cavan. Not far behind Mighty was Tullyharnet Mojo sired by the maternal French sire, Tombapik. Property of Noel Laverty from County Monaghan, Mojo sold with one of the best set of indexes in the catalogue, comprising of a five star terminal index of €142, a five star replacement index of €110 and a calving figure of 7.6%. He sold to suckler farmer, Tom Noble from Northern Ireland.
The Crossdrum Felix son, Baurnafea Myles exhibited by John Bambrick from Castlewarren, Co. Kilkenny traded at €4,000. He headed west with suckler farmer, Dermot O' Reilly from Claremorris, Co. Mayo. Two lots then shared the price tag of €3,800, the first of which was Whitepark Mike exhibited by Patrick Hillary from Ballinasloe, Co. Galway. This Cavelands Fenian son ticked all the boxes on paper, with a five star teminal and replacement index, along with a calving figure of just 6.7%. He found his new home with fellow Ballinasloe man, Harry Mellody. The second lot to find a new home at €3,800 was Makief Mattie exhibited by Derek Woods from Killeshandra, Co. Cavan. This 15 month old bull is a son of Fiston and a Blelack Digger daughter. He was also very attractive on paper, selling with a five star terminal index of €140, a five star replacement index of €122 and a calving figure of 5.6%.
Other leading prices included:
€3,700 for Feakle Major by Alwent Goldbar and exhibited by Michael Green
€3,600 for Goldhill Motivator by Fiston and exhibited by Padraig Murphy
€3,500 for Clewbay12 Mojo by Voimo and exhibited by Charles Hughes
€3,450 for Ballyfinnane Milo ET by Panama and exhibited by Kenneth Clarke
€3,300 for Goldstar Macbeth ET by Tombapik and exhibited by Martin Ryan
Next Society show and sale is the Elite Heifer show and sale which takes place this Saturday the 11th of November in Tullamore Mart. Download Catalogue here – Download PDF Catalogue