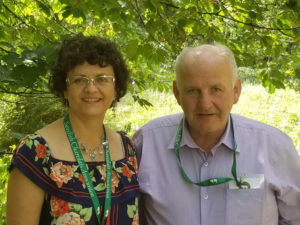 President of the Irish Charolais Cattle Society and Charolais International, Kevin Maguire, pictured with Candace By, Secretary of Charolais International.
President of the Irish Charolais Cattle Society, Kevin Maguire, was last week elected as President of Charolais International. Kevin was elected at the Annual General Meeting of Charolais International which took place during the World Charolais Congress in Sweden. Kevin's reign as President will coincide with the World Charolais Technical Congress in Ireland next summer. It is a wonderful achievement and honor for the Meath man to be elected to such a prestigious position.
Charolais delegates from all over the world attended the Congress in Sweden. The quality of Charolais cattle on display was terrific, with the majority being polled. Efficient Charolais cows with high maternal traits were in abundance on the farms visited. This was highlighted in the fact that every herd visited were weaning greater than 0.97 calves/cow per year. Bulls are selected based on easy calving, with superior growth rates and high performance. The hospitality and generosity provided by the Swedish Association was outstanding. A country renowned for it's beauty, certainly lived up to it's reputation.