Charolais Heifers met another hot trade at the second year of the Elite Heifer Show & Sale in Tullamore last Saturday. Like last year, there was a fantastic offering of Heifers, from some of Ireland's leading pedigree Charolais herds. Overall, 75% of the sixty Heifers on offer sold to an average of €3,280. On a day where there were many highlights, Kilduff Nikita ET from James and John Dunne in County Cavan capped it all, selling for the top price of €7,500 to Nigel and Gail Matchett from Portadown in County Armagh. This powerful October 2017 born Heifer who is a daughter of CF 52 and a Meillard bred dam, carries a terminal index value of €169. Judge Chris Curry of the Burradon Pedigree Charolais herd in the UK, tapped Nikita out as the Reserve Junior Champion earlier in the day, after she stood top of the line in what was terrific class of Junior Heifers.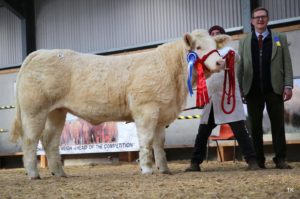 Reserve Junior Champion Kilduff Nikita ET who sold for the top price of €7,500
Not far behind Nikita was the Senior Champion, Summervilla Niki exhibited by Tony and Ciaran O' Donnell from Elphin, Co. Roscommon. This exceptionally well presented Heifer is a daughter of Cavelands Fenian and a Fury Action bred dam. Once again the buyers were Nigel and Gail Matchett from Portadown in County Armagh. The Matchett's run the well known Birches Pedigree herd in Northern Ireland and export a large number of Cattle to the UK every year.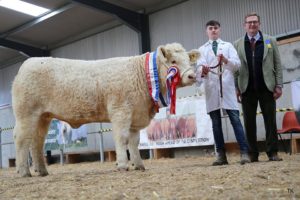 Senior Champion Summervilla Niki who sold for €7,000
Next best in the sales ring at €6,800 was the Overall Junior Champion, Tullaghan Nova ET exhibited by Michael Daly from County Leitrim. This well bred Heifer caught the eye of many around the ringside as well as Judge Chris Curry, before selling to Gerry Lynch of the Knockmoyle Pedigree Charolais herd in County Clare. Sired by the famous Domino, Nova also carries an impressive set of indexes, consisting of a terminal index value of €169 and replacement index of €50.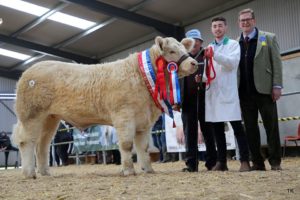 Junior Champion Tullaghan Nova ET who sold for €6,800
John O Grady from Glenamaddy in County Galway then received a call of €5,100 for his Reserve Senior Champion, Glenree Matilda ET. This August 2016 born Heifer is a daughter of Royal Excellent and Royal Adeline, two well bred French lines. Securing this one was Damian Maher from Roscrea, Co. Tipperary.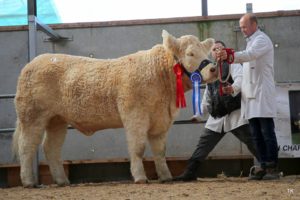 Reserve Senior Champion Glenree Matilda ET who sold for €5,100 
Gerry O' Keeffe from Knocklong in County Limerick then traded his second prize winner, Grangwood North for €4,700. This April 2017 born Heifer is a daughter of the popular Pirate and a Texan gie bred dam. Snapping this impressive offering up was Clare Ferris in County Down. The Daly's from County Leitrim were back in action once again, when Ciaran Daly received a sum of €4,500 for Tawny Mermaid. Once again this Heifer is a daughter of Pirate, with CF 52 and Dovea Gin Tonic in the cow line. This one will now join Matthew Doonaun in Tulla, Co. Clare.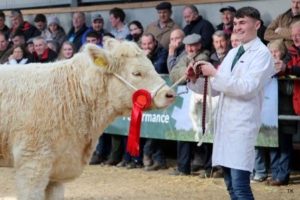 It was smiles all round as young Ciaran O' Donnell was tapped out as the Overall Senior Champion 
Three lots then shared a price tag of €4,000. First up was Tullyloyd Nora exhibited by Gerard Beirne from Elphin, Co. Roscommon. This January 2017 born daughter of Cavelands Fenian sold with an impressive display of indexes, comprising a five star replacement index of €95 and five star terminal index of €147. Next up at €4,000 was Fieldview Natalie exhibited by County Monaghan breeder, David Erskine. This stylish 19 month old Heifer is a daughter of the home bred Fieldview Jethro and was wrapped up by Kevin Mc Grath from Boyle, Co. Sligo. The final Heifer to exchange hands at €4,000 was the first prize winner, Limkiln Nicole ET from Richard Hackett in County Clare. Another attractive offering, Nicole is a daughter of Panama and a Plexus bred dam. She was also purchased by Nigel and Gail Matchett of the Birches Charolais herd in Northern Ireland.
Two lots then traded at €3,900 a piece, the first came in the form of Clenagh Millie ET exhibited by the Quin family in County Clare. This daughter of CF 52 and a Roundhill Rocky bred dam was secured by Jimmy Kelly from Ardagh, Co. Limerick. Ciaran Daly from North Leitrim was the second man to receive a call of €3,900 for his March 2017 born Heifer, Tawny Naya sired by Blelack Digger. Naya was one of the highest replacement index Heifers cataloged, carrying a value of €113. She will now take up residence with Louis Mc Gonagle from neighboring County Donegal.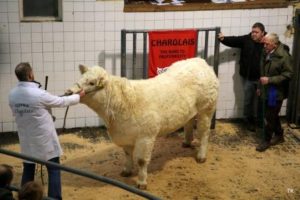 Clenagh Millie ET going under the hammer at €3,900 for the Quin family  
At €3,750 was the first prize winner Gallaway Mini exhibited by Michael Kiernan from Carrigallen, Co. Leitrim. This rising two year old who is a daughter of Inverlochy Ferdie sold to Michael O' Connor from County Clare. Two Heifers went under Tom Cox's hammer at €3,700. The first was Kiltorcan08 Maria Helena exhibited by Eoin Reid from County Kilkenny. This powerful daughter of Pirate goes back to the well bred french cow, Goldstar Alizee and is scanned in calf to Cavelands Fenian. Securing this one was the Irish Charolais Cattle Society for Nicole Mc Padden from Rhode, Co. Offaly as her prize for winning this year's ICCS Marketing competition. Michael Grant made his trip from Buncrana in County Donegal worth while, when his Heifer Maghermore Nora ET was knocked down at €3,700 to James Callion from Omagh, Co. Tyrone. This stylish lot is a daughter of Oldstone Egbert and a CF 52 bred dam.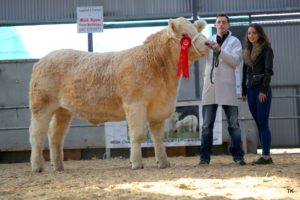 Kiltorcan08 Maria Helena with exhibitor Patrick Reid and new owner Nicole Mc Padden
Other leading prices included:
€3,600 for Rooskeynamona Madonna ET sired by Major and exhibited by Gerard Mulligan from County Leitrim
€3,500 for Summervilla Nice sired by Tombapik and exhibited by Tony & Ciaran O' Donnell from County Roscommon
€3,200 for Dereskit Martina 870 sired by Derryolam Impeccable and exhibited by Basil Bothwell from County Cavan
€3,050 for Kilbline 1 Lucinda ET sired by Enfield Hari kiri and exhibited by Noel Sugrue from County Kilkenny
€3,050 for Kilvilcorris Mary sired by Enfield Plexus and exhibited by Matt Ryan from County Tipperary
The next Society Show & Sale is the Christmas Cracker which will take place in Elphin Mart, Co. Roscommon on Saturday 1st December 2018, where there will be 101 bulls on offer