On Saturday last, one of the oldest and largest pedigree Charolais herds in the country, Skidoo, provided a sale that will be remembered for some time and showed that Charolais are still firmly in demand. It was evident from the outset that buyers travelled from far and wide to secure Skidoo bloodlines. The highlight of the day came when lot 25, Skidoo 96 Highlight 2 ET traded at €9,800. This six year old cow sold incalf, calving in February to Jumper. Sired herself by Major, she goes back on a Doonally New bred dam which goes back to a French import. Overall all 34 in calf cows calving in autumn sold to average over €3,700.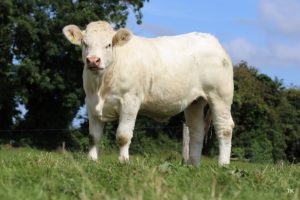 Top of the cows with spring calves at foot was the forth lot into the ring, Skidoo 96 Isolda ET, who sold for €6,500. This rising six year old is a daughter of the UK sire, Inverlochy Ferdie. Overall 82% of the cow and calf lots sold to average just shy of €4,000. Spring calves sold separate to the cows reached a top of €3,100 for Skidoo 96 Patra.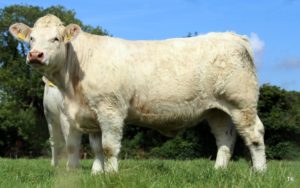 The in calf heifer section seen a total of 26 forward with 22 finding new homes. These topped at €4,700, with an average price of €2,890. Topping this section was lot 86, Skidoo96 Nollaig. Born April 2017, this Goldstar Echo daughter carries five stars on the replacement index and sold in calf to Nippur.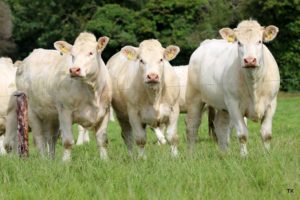 Buyers remained around the ringside right until the very end. Last through the ring were the maiden heifers, where 27 lots sold to average €2,360. Topping these was a bid of €4,000 for lot 119, Skidoo96 Pamela. This January 2019-born daughter of Jumper goes back to a Fury Action-bred cow.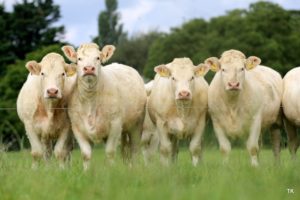 Other leading prices included –
Lot 16 Skidoo Jessica sired by Fury Action who sold for €5,400
Lot 23 Deeleview Jessica sired by Elgin Davinci who sold for €5,600
Lot 62 Skidoo96 L 1974 sired by Inverlochy Ferdie who sold for €5,000
Lot 85 Skidoo96 N 2198 sired by Artois who sold for €4,600
Lot 92 Skidoo96 N 2235 sired by Sesame who sold for €4,600