Charolais bulls topped at €5,700 in Tullamore this weekend, at the first of the Society's Autumn Shows and Sales. The trade could only be described as tough, with poor beef prices and a sticky autumn trade for Weanling's clearly starting to take it's toll on suckler farmers. Overall, 50% of the bulls forward sold to average €3,020. That said, quality bulls were still in demand and commanded a premium price. The Overall Champion of the day went the way of Roughan Oscar, exhibited by Pat Mc Clean from County Donegal. This powerful 20 month old son of Roughan Justbeau and Roughan Helene caught the eye of Judge, Basil Bothwell, and went on to sell for the highest price of the day at €5,700. Oscar also carries an impressive spread of indexes, with a five star terminal index of €132, a four star replacement index of €71 and a calving figure of 7%. Wrapping up the Champion was pedigree breeder, Liam Johnson from County Fermanagh.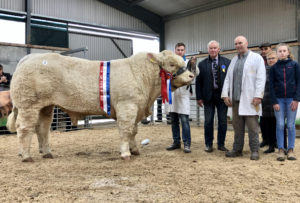 Overall Champion Roughan Oscar who sold for €5,700, pictured with exhibitor Pat Mc Clean, Judge Basil Bothwell, the Merlet Family from France and Junior Judge Eimear Whelan
Not far behind at €5,600 was the much admired, Clonaltra Officer, exhibited by Terry Bradley from Moate, Co. Westmeath. A first prize winner from the Pre-sale show, this classy bull is a son of Fleetwood and a Cavelands Adam bred dam. This 17 month old bull sold with a whopping terminal index of €154 and below average calving figure of just 6.3%. Securing the Westmeath bred bull was Derek Tighe and family from Navan in County Meath.
Clonaltra Officer who sold for €5,600 with exhibitor Terry Bradley and the Tighe family
The Reserve Overall Champion was awarded to Tonroe Onreal exhibited by the Callaghan's from Swinford in County Mayo. This 19 month bull is a son of Liscally Eti and a Bova Sylvain bred dam. Onreal was knocked down to a suckler farmer in County Offaly at €2,000.
Reserve Champion Tonroe Onreal
Trading at €4,200 was another first prize winner from the pre-sale show, Relaghbeg Oscar ET, exhibited by John Cahill from Bailieboro in County Cavan. This 13 month old bull is a son of CF 52 and a Meillard Rj bred dam. A stylish bull who also carried a boastful terminal index of €152 and a calving figure of just over 7%. Snapping this stylish young bull up was John Mc Loughlin from Swinford in County Mayo.
Louise and Colm Quinn from Edenderry in County Offaly traded their 16 month old, Ballym Oxley for €4,000. A son of Lisnagre Elite and a CF 52 bred dam, Oxley carried one of the highest terminal indexes in the catalogue of €180.  Securing this one was Marshall Wright from Lisnaskea, County Fermanagh.
Pat Mc Clean was back in the limelight once again when he exchanged hands with Roughan Ollie for €3,650, a 20 month old son of Roughan Jason and a Roughan Divin bred dam. This bull packed an impressive set of indexes which included a five star terminal and replacement index, accompanied by a below average calving figure of just 6.1%.
The Ryan's from Borrisoleigh in County Tipperary then received a call of €3,450 for their 15 month old, Kilvilcorris Otto. This one is a son of the herd's stock bull, Bunratty Mike Tyson and a Sesame bred dam.
The next Society Show & Sale is the Elite Heifer Sale, which takes place this Saturday the 9th November in Tullamore Mart