A few months ago we reported on a number of Dairy herds who used two AI Charolais bulls on their Dairy cows in 2019, as part of a trial carried out by the Society. The aim of the experiment was to identify easy calving, short gestation length Charolais bulls suitable for Dairy cows. The bulls selected were Coom Indurain CH2000 and Bivouac CH2218. The results found that the calves were born easy, with an average gestation length of 282 days. In general the calves born from CH2218 were slightly shorter on gestation length and were slightly smaller at birth. The most important conclusion however was that all the farmers were extremely happy with their Charolais cross calves. They all reported an overwhelming demand for the calves, with calf sale prices in excess of €350 at two weeks old. In the last week we spoke to the remainder of the Dairy farmers who took part in the trial in 2019.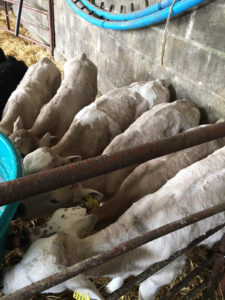 Charolais cross dairy calves on a Farm in County Laois
The above calves were born on a Dairy farm in County Laois. The majority of the cows on this farm are Holstein Frisian and British Frisian crosses. This farmer said all calves were born unassisted. The average gestation length of the Bivouac calves was 281 days, with the average gestation length of the Coom Indurain calves slightly longer at 283 days. Once again, the Coom Indurain calves were also slightly bigger at birth. This farmer is extremely happy with the Charolais cross calves, commenting "There is a great demand for these Charolais cross dairy calves, they sold from €350 upwards, I will definitely be using more Charolais bulls in the future".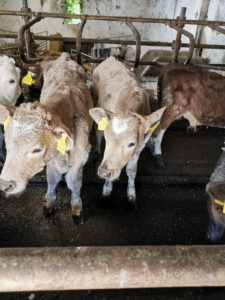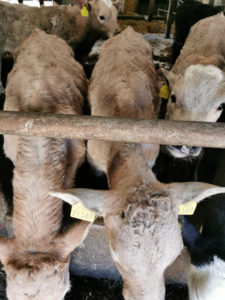 Charolais cross dairy calves on a farm in County Meath
Our next Dairy farmer is based in County Meath. Once again the Charolais calves were born unassisted. The cows are mostly Holstein and British Frisian Crosses. This farmer put's all the calves to beef. Commenting on the calves he said "We have always used AI Charolais bulls on our Dairy cows, we find they develop into wonderful beef cattle at slaughter." This farmer was particularly impressed with the Coom Indurain calves, although they had slightly longer gestation lengths than the Bivouac calves.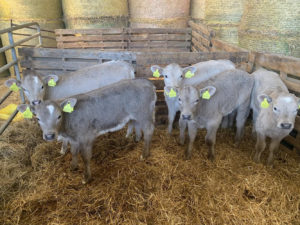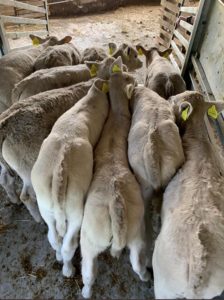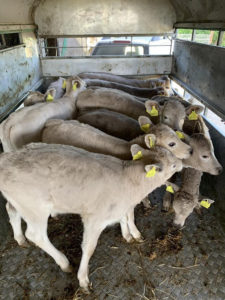 Picture above is another batch of outstanding quality Charolais cross dairy calves on a Dairy farm in County Kildare this Spring. These calves were sired by a Charolais stock bull
If you are looking to boost your calf sales and would be interested in using Charolais sires on your dairy cows, below is a list of high Dairy Beef Index Charolais bulls currently available through AI. These figures are based on the May 2020 run of ICBF genetic evaluations.
| | | | | | |
| --- | --- | --- | --- | --- | --- |
| AI Code | Name | Dairy Beef Index | Gestation | Dairy Cow CD % | Supplier |
| S2014 | Sicilien | €60 | -0.4 | 7.4% | Dovea |
| CH2000 | Coom Indurain | €59 | 2.3 | 7.2% | Dovea |
| CH2398 | Chanceux | €46 | .92 | 8% | Worldwide Sires |
| FMA | Farman | €22 | 3.4 | 7.7% | Eurogene |
| CH2194 | Torino | €8 | .79 | 9.2% | Eurogene |
| CH2218 | Bivouac | €4 | -1.8 | 11.4% | Dovea |