The year 2020 will be remembered for years to come for obvious reasons, but last Saturdays Elite Charolais Heifer Sale in Tullamore will also go down in history as one of the best Charolais Society Sales ever witnessed in Ireland, if not the best. Under Level 5 restrictions it was not possible to hold a pre-sale show, instead a pre-sale parade was held on the morning, followed by a viewing period. The sale that followed saw a phenomenal 92% of the Heifers forward selling to a staggering average of €5,302, which is believed to be a record average at an official Charolais Society Sale in Ireland. Just three Heifers went home unsold, two of which were withdrawn from the ring at €6,400 each. The sale came just a week after a Charolais Cross Heifer sold for €9,000 in Elphin, also believed to be a record price for an in-calf commercial Heifer in Ireland.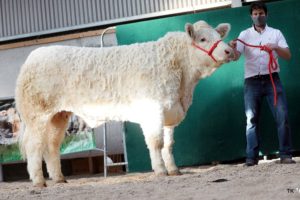 Ballymorrishill Pretty Polly ET who sold for the top price of €13,200
Leading the trade at €13,200 was Ballymorrishill Pretty Polly ET, exhibited by new breeders, Paul and Jack Sheridan from Kilcogy in County Cavan. This outstanding 20 month old Heifer went to sale with a string of rosettes and championships to her name from her 2019 show season, which included the All Ireland Baby Calf Championship in Elphin. She is a daughter of the Charolais Society bull, Aimable, and an Inverlochy Gurkha bred dam. The Cavan men's success didn't stop there, shortly before Pretty Polly stole the limelight, her herd mate and full sister, Farmer Polly ET,  was knocked down at €10,200. It really was a tremendous day for Paul and his son Jack, as they went home with €23,400 for their two 20 month old Charolais heifers. The two sisters were snapped up by Claire Ferris from Millisle in County Down.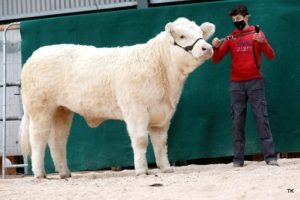 Farmer Polly who sold for €10,200
The well known Goldstar herd, owned by Martin Ryan and family from County Tipperary also had a remarkable day at the office. Their five offerings sold for an average of €8,760. Topping their trade was Goldstar Portia at €12,200, an 18 month old daughter of the home bred, Goldstar Ludwig and Goldstar Grace. Portia will now join Harry Heron's Loughriscouse pedigree herd in Northern Ireland.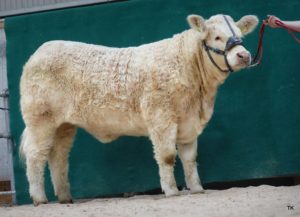 Goldstar Portia who sold for €12,200
Hot on her heels at €11,600 was her stable mate, Goldstar Paula ET, a daughter of the great Goldstar Echo and the aforementioned, Goldstar Grace. This rising two year old will now join the well established Ballym herd in Edenderry, owned by Colm and Louise Quinn.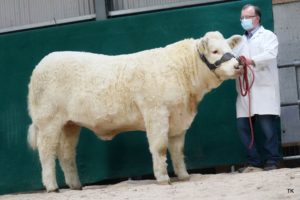 Goldstar Paula ET who sold for €11,600
Next up from the Ryan family at €8,000 was Goldstar Pearle ET, another daughter of Goldstar Echo and this time, Goldstar Nightengale ET, who goes back to Tombapik and Goldstar Falkland. Harry Heron of the Loughriscouse herd in Northern Ireland also added this one to his collection.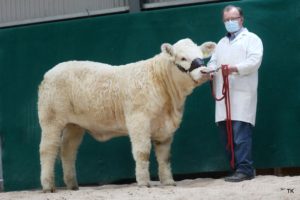 Goldstar Pearle ET who sold for €8,000
Pearle's full sister, Goldstar Prada ET, followed shortly after at €7,400. Having the final call on this 14 month old Goldstar Echo daughter was Stephen Crampton from Birr in County Offaly. The Ryan's traded their final offering, Goldstar Pandora ET at €4,600, a 14 month old daughter of the French sire, Oscar.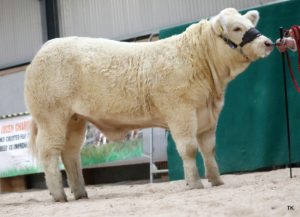 Goldstar Prada ET who sold for €7,400
Jon Regan had a worthwhile trip from North Leitrim, after he parted company with his two Heifers for €8,500 and €7,600, respectively. First to go under the hammer was Liscally Pretty Polly 1 ET at €8,500, a 20 month old daughter of the great Domino and the noted, Maerdy Entry. This classy heifer went North to County Tyrone with Peter Mc Caffrey.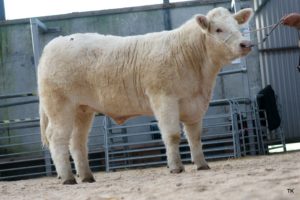 Liscally Pretty Polly 1 ET who sold for €8,500
Jon's second offering, Liscally Pretty Polly 4 ET wasn't far behind at €7,600. This 14 month old heifer is a daughter of Goldstar Echo and Liscally My Fair Lady, a daughter of Balmyle Vagabond. She will now take up residence with Ronald Baker from Rathkeale in County Limerick.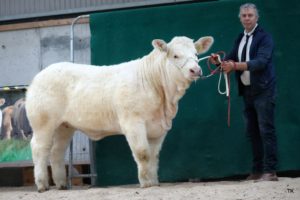 Liscally Pretty Polly 4 ET who sold for €7,600
Next best at €7,100 was Knockmoyle10 Oonagh ET exhibited by Gerry Lynch from County Clare. This in calf Heifer went to sale with a proud pedigree, which included Pirate and the prolific, Ashleigh Cleo. Oonagh is a full sister of the popular AI sire, Knockmoyle10 Loki. She sold to Jimmy Kelly from County Limerick. Gerry also received a bid of €4,300 for Knockmoyle10 Orelia, a 24 month old daughter of Fiston and Knockmoyle10 Heidi.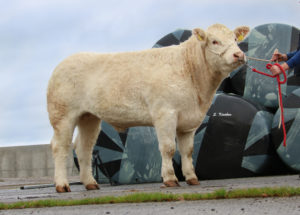 Knockmoyle10 Oonagh ET who sold for €7,100
Having failed to meet her reserve in the sales ring, Aghafad One Dream ET exhibited by Edward Walsh from County Monghan exchanged hands outside the ring at €6,500. One Dream is a two year old daughter of Erudit and goes back to Hermes and Major on the dam's side. She sold to Colin Mc Cormack from County Leitrim.
Michael and Kevin Graham from County Roscommon received a call of €5,400 for Carrowbeg Olga, a two year old daughter of Fiston and a Goldstar Echo bred dam. She catalogued with a page full of stars and a calving figure of just 4.6%. Tammy Mc Cammond from County Antrim was the successful bidder on this one.
Up next at €5,300 was Windmill18 Oasis from Richard Nerney in County Roscommon. This stylish in calf heifer is a daughter of the maternal AI sire, Voimo, and a Blelack Digger bred dam. She sold with a four star replacement index of €91 and a calving figure of just 3.6%. Oasis sold to Stanley Clarke from Ballinasloe in County Galway.
Matt and PJ Ryan from County Tipperary traded their 23 month old, Kilvilcorris Ottie for €5,200. This high index daughter of Blelack Digger and an Enfield Plexus bred dam sold to the previously mentioned, Ronald Baker from County Limerick. Matt and PJ went on to sell all three of their offerings for a total sum of €13,500, with Kilvilcorris Pandora by Bunratty Mike Tyson and Kilvilcorris Poppy by Lisnagre Elite selling for €4,300 and €4,000, respectively.
The final lot to hit the €5,000 mark was Drumbeera Patricia sired by Goldstar Echo. Exhibited by Thomas Beirne from County Leitrim, this 20 month old heifer sold in calf to Raymond Dallas from Northern Ireland.
The Society would like to thank all exhibitors and viewers for cooperating with the guidelines in place at Saturday's sale. We would also like to thank Tullamore Mart and the Department of Agriculture for facilitating the sale under the current restrictions. But most importantly, we would like to congratulate the breeders on putting on a wonderful display of heifers and wish all buyers the very best of luck with their purchases.
The next Society Sale is the Christmas Cracker Bull Sale, which will take place in Elphin Mart on Saturday the 5th December. There will be 120 top quality bulls catalogued. Catalogues for the Sale will be available from the 24th of November 2020, after the next run of ICBF genetic evaluations.