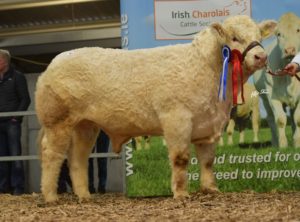 Due to the change in Government guidelines this week, a limited number of buyers are allowed back around the sale ring at Marts. This means 35 buyers will be allowed around the sales ring at this Saturday's Christmas Cracker Bull Sale in Elphin Mart. So, in the interest of fairness, a draw will take place tomorrow evening, Friday the 4th December, at 5.30 pm, for all those who have registered to view with Elphin Mart. The 35 names drawn will be contacted directly and given the option of been allowed in the sales ring. Please note only the 35 people drawn will be allowed into the Sales ring. All other buyers must bid online at Martbids.ie. We hope you will all understand that we must comply with the guidelines and we believe this is the fairest way under the circumstances. Please note all other arrangements are the same as previously notified below.
Viewing of the bulls is by appointment only from 8 am – 12.30 pm on the morning of the Sale. This will be carried out under the supervision of stewards. Buyers must register with Elphin Mart on (0719635061) before close of business on Friday the 4th December to arrange a viewing time.
During this viewing time, only one person per exhibitor can stay at their stalls. All other helpers and handlers must leave the premises. Once the viewing time is complete, they can return to their stalls.
When viewing is complete, all buyers must leave the premises, except for the 35 buyers allowed into the sales ring.
At 12.45 pm the Sale will commence; each exhibitor will lead their animal into the Sales ring in Catalogue order. Bidding will be online through Elphin Mart's Online System, https://bidding.martbids.ie/app/v4/login.php Please ensure you are registered and set up to buy online prior to the Sale.
There will be an adequate number of Stewards on the Premises to ensure Safety, to police entrances (reminding the public of the health precautions) and to ensure only those on site (involved in the purchase or sale) are granted entry.
Social Distancing must be adhered to at all times.
Face coverings are mandatory for everyone attending the Sale.
Public toilets will be open with appropriate signage regarding hand hygiene at the toilet entrance.
Catering facilities will be open for take away only.
Download PDF Catalogue here – Christmas Cracker Catalogue
The Charolais Society will give €400 back to the purchasers of the first 20 bulls to sell for over €4,500 in the ring at this Sale
118 Charolais Bulls Catalogued
All Bulls are export tested & eligible for export on the day
All Bulls are fertility tested & fertility insured
All Bulls are Vet inspected & pre-sale inspected from over 200 entries
All Bulls are genotyped, sire verified & myostatin tested
€100 paid towards transport costs to Northern Ireland or transport can be arranged to NI
Free transport available to the UK mainland