Father and son duo, Brian and Pearse O Kane farm in Greysteel, County Derry. In 2012 the pair set up the Lowerbolie Pedigree Saler herd. Prior to that, they ran a herd of suckler cows always with a Charolais stock bull. After switching over to Saler cows, the pair continued to use a Charolais stock bull, commenting "you can't beat a Charolais in the Mart'.
Charolais stock bull – Cleavy Jack The Lad
In 2015 they purchased the Irish Charolais bull, Cleavy Jack The Lad, to run with their 30-cow herd. Jack The Lad is a son of Cleavy Hutch, with Invincible and Hermes in his dam line. Five years on and the Leitrim bred bull is still heading up the herd. Both Brian and Pearse work off farm, so it is vital that cows can calve themselves with little maintenance needed throughout the year. According to the O Kane's, Charolais Cross Saler is "the perfect suckling cross".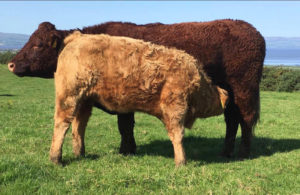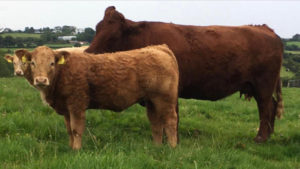 Female progeny of Cleavy Jack The Lad and Saler cows
The herd is all spring calving, with some Heifers retained for breeding every year. The current Charolais stock bull is used on Heifers without any calving problems to date. So far this year over 20 cows have calved down to the Charolais bull, with just one cow needing assistance at calving. The O Kane's point out that the Charolais calves ability to thrive and perform is further boosted by the milking ability of the Saler dams.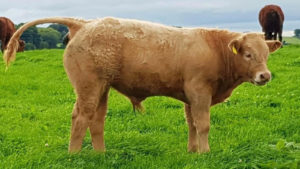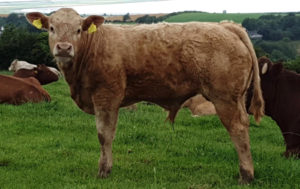 Male progeny of Cleavy Jack The Lad and Saler cows
Last year's weanlings were sold at just over 6 months old. This cuts down on feed input and additional costs. The bulls sold at an average weight of 310kgs, at an average price of £832 pounds. The heifers averaged 286kgs and sold for an average price of £728 pounds. This kind of return was consistent with previous year's sales.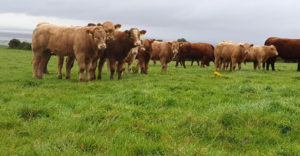 The O'Kane's part time system of farming is similar to many suckler farmers across the Country today. It is obvious that the Charolais Cross Saler is ideal for their system of farming. They complement each other perfectly and produce that highly sought-after golden weanling, with minimum input. If suckler farms are to be viable into the future, they must be efficient. This cross ignites that efficiency through fertility, calving ability, milking ability, weight gain, confirmation, quality, and colour.