The final Irish Charolais Cattle Society Bull Sale of Spring 2021 will take place in Tullamore Mart on Saturday the 29th May. There are 86 Charolais bulls catalogued to suit all markets and budgets. All bulls at this sale are genotyped and sire verified.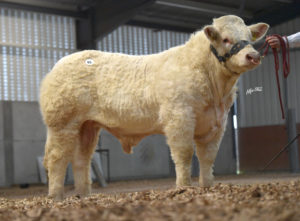 GREAT SELECTION OF DIFFERENT SIRES
There is a wide variation of sires and genetics available at this sale. There are bulls on offer from 41 different sires and 56 different breeders from all across Ireland.
TERMINAL BULLS
For those looking for a bull to breed weanlings, store cattle or beef cattle, 98% of the 86 bulls catalogued are either 4 or 5 star on the terminal index within or across breed.
MATERNAL BULLS
For those looking for a bull to breed Replacement females, there are 39 bulls catalogued which are either 4 or 5 star on the Replacement index within or across breed.
EASY CALVING BULLS
There are bulls catalogued to suit cows, heifers and all farming systems. The bulls catalogued range on calving difficulty from as low as 2.3% – 12.5% on beef cows, with the majority of the bulls catalogued ranging from 4% – 6% on beef cows.
QUALIFY FOR THE BDGP SCHEME
Over 98% of the bulls in this Sale qualify for the BDGP.
MYOSTATIN RESULTS AVAILABLE ON ALL BULLS CATALOGUED
In the comments section of each bull catalogued you will find their Myostatin results. Some results may not be available for a variety of different reasons. For those whose results are available, this information can assist you further in selecting the right bull for your farming system.
BULLS TO SUIT ALL BUDGETS
The minimum opening bid at this Sale is €1,800 and the minimum selling price is €2,000.
ALL BULLS ARE FERTILITY TESTED AND FERTILITY INSURED
All bulls sold at this sale are fertility tested and will be fertility insured for 90 days following the Sale. This can be deferred for a further 30 days on the day of sale if needs be.
REGISTERING TO VIEW THE BULLS
Viewing is by appointment only from 9.30 am – 12.30 pm on the morning of the Sale. Buyers must register with Tullamore Mart on 057 9321196 prior to the day of Sale to arrange a viewing time.
THE SALE
There will be Online and Ringside bidding at this Sale. Online bidding will be available through LSL. As there will be a limited number of buyers allowed into the ring for the Sale, a draw will take place on Friday the 28th May at 5 pm, for all those who have registered to view. The names pulled out of the draw will be contacted and will be allowed into the Sales ring for the Sale. Please insure you are registered to view by Friday the 28th May to be in the draw.
Catalogue for the Sale is available here – Download PDF Catalogue