The Irish Charolais Cattle Society wrapped up their Spring 2021 Bull Sales on Saturday last in Tullamore. Trade was evidently strong for select lots, resulting in the average price settling at €3,846 for the bulls sold. Although some bulls struggled to meet their reserve, it was clear that there were customers in the market willing to pay that bit extra for the top end bulls. One herd that will remember the Sale for all the right reasons is the Kilduff Pedigree Charolais herd based in Belturbet in North West Cavan, owned by Robert, James and Zara Dunne. Not only did they top the Sale at €11,200, the highest price paid for a Charolais bull in Tullamore for some time, they also achieved a staggering average of €7,466 for three 13 month old Charolais bulls.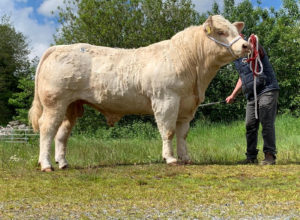 Kilduff Rockstar who sold for €11,200
Leading the trade at €11,200 was Kilduff Rockstar for the Dunne family. This 13 month old CF 52 son attracted buyers from all corners, resulting in a bidding war with online and ringside buyers, before eventually getting knocked down to Claire Ferris and Peter My Cague from County Down. This powerful young bull carried Pirate and Bova Sylvain on his dam's side, and displayed a five star terminal index of €149. He also carried one copy of both the F94L and Q204X myostatin variants.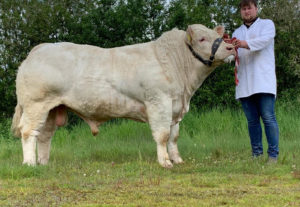 Roughan Proper 2 who sold for €7,000
Regular exhibitor Pat Mc CLean from County Donegal was next best in the Sales ring with his sole entry, Roughan Proper 2. This October 2019 born bull is a son of Roughan Gibraltar and a Roughan Enzo bred dam. He catalogued with an impressive array of indexes, as well as carrying one copy of both the Myostatin genes. Securing this well made bull for their Culla pedigree Charolais herd in County Monaghan was John and Paul Kingham.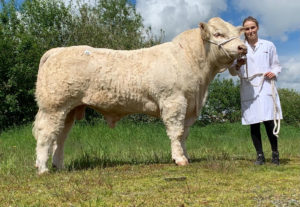 Kilduff Roberto who sold for €6,200
The Dunne's were back in action again when they realised €6,200 for Kilduff Roberto. This 13 month old bull ticked all the boxes on paper, with a page full of stars and a calving figure of just 3.1% on beef cows, as well as carrying one copy of the F94L profit gene. His sire is the UK bred Newhouse Bigal, and like his stable mate, he is the son of a Pirate bred dam. Roberto went North to a suckler farmer in County Down.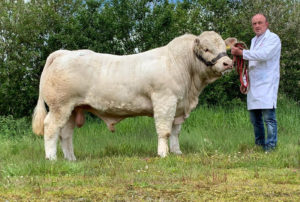 Fieldview Romeo who sold for €5,300
Hitting the €5,300 mark was Fieldview Romeo exhibited by County Monaghan breeder David Erskine. A son of the well known AI sire Fiston, Romeo goes back to one of the herd's most prolific breeding cows, Fieldview Crystal. Romeo had looks and indexes on his side, as well as a below average calving figure of 4.7% on beef cows. He sold to fellow Monaghan breeder, Anthony Mc Veigh.
Kilduff Rosc O who sold for €5,000
Two bulls shared the price tag of €5,000. The first of these was Kilduff Rosc O, once again the property of the Dunne family from County Cavan. Just like the sale topper, this rising 13 month old bull was also the progeny of the one and only, CF 52. This time the grand sire on the dam's side is Meillard. He displayed a five star terminal index of €153 and carries one copy of the 'profit' gene. He was knocked down to a suckler farmer from County Laois.
Gerry O' Keeffe from Knocklong in County Limerick had to wait until the very end of the Sale to witness his 12 month old bull Grangwood Rooney go under Tom Cox's hammer for €5,000. The youngest bull on the day, this classy bull is sired by the popular Goldstar Echo. He carries a five star terminal index of €152, a calving figure of 5.2%, and possesses one copy of the Q204X muscle gene. A county Laois suckler farmer had the final call on this one.
Sheafield Rolls Royce certainly lived up to his name for breeder Sean Morton from County Leitrim when he traded at €4,600. This 13 month old bull is a son of the NCBC sire, Cavelands Fenian, and a homebred Lisnagre Elite bred dam. As well as carrying one copy of the F94L gene, stars were also in abundance, along with a calving figure of 5% on beef cows. The young Leitrim bred bull will now take up residence in County Galway.
Colm and Louise Quinn from Edenderry in County Offaly weren't far behind with Ballym Reese at €4,500. This January 2020 born bull is a son of the Dovea AI sire, Knockmoyle10 Loki and a Ballym Bouvreuil bred dam. As well as displaying eye catching terminal indexes, Reese offered a calving figure of just 3% on beef cows. He sold to a suckler farmer in County Westmeath.
Other leading prices included:
€4,000 for Knockmoyle10 Picasso sired by Lisnagre Hansome and exhibited by Gerry Lynch from County Clare
€4,000 for Fieldview Riley sired by Goldstar Echo and exhibited by David Erskine from County Monaghan
€4,000 for Crossmolina Rolex sired by Stimothee and exhibited by Alan Wood from County Mayo
€4,000 for Glenree Robin sired by Clyth Diplomat and exhibited by John O Grady from County Galway
€3,800 for Sliabhbawn Rossie sired by Roughan Lincoln and exhibited by James Duke from County Roscommon.
€3,600 for Coolategal Rory sired by CF 52 and exhibited by Shane Muldoon from County Longford
€3,600 for Currycramp Roar sired by Clenagh Lyle and exhibited by Tom Mulligan from County Leitrim
€3,500 for Baurnafea Reedstar sired by Baurnafea Nelson and exhibited by John Bambrick from County Kilkenny
The Society would like to thank all exhibitors, buyers, Tullamore Mart, and the DAFM for their co-operation at Saturday's Sale, and indeed at all our Sales this Spring. We would also like to wish all purchasers the very best of luck with their bulls from Saturday's Sale.