Due to the ongoing situation regarding Covid 19, we are unable to hold in person youth development shows or workshops this Summer unfortunately. Instead, in conjunction with Charolais International we are delighted to launch a Video and Photograph Competition for all young Charolais enthusiasts. What this involves is the following: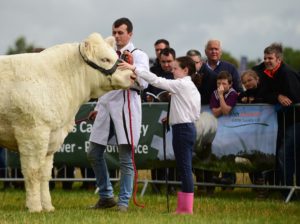 All entrants must be members of the Irish Charolais Youth Development Programme. If you are not signed up already, you can do so by filling out the attached form and returning to us – YMA Application Form
All entrants must be aged from 12 – 24 years old for this competition
There are two categories: 1) Best Video 2) Best Photograph
1)Video
The aim of the video is to highlight the benefits of using Charolais in your own Country. Charolais genetics vary around the World, depending on their purpose and their environment. It is important that your video demonstrates what Charolais do best in Ireland. Whether it be a Charolais bull out running with a herd of Saler cross cows, a herd of Charolais cross cows with their new-born calves, or a graph showing the impact Charolais is having in the National herd, please feel free to use your imagination and compile the best video you can to promote Charolais Cattle in Ireland. The video can contain purebred Charolais and Charolais Cross Cattle.
• The video must be at least 1 minute 30 seconds, but no longer than 2 minutes 30 seconds
• The video must consist of all original material
• It can include pictures, video footage, tables, graphs (anything that promotes Charolais
Cattle)
• Only one video can be submitted per applicant
• Videos must be uploaded to Youtube and the link submitted for entry via e-mail
2)Photograph
The aim of the photograph is to capture Charolais at their best and most relevant in Ireland
• The photograph must be an original, cannot be copied
• Only one photograph can be submitted per applicant
• Photograph's can be taken horizontally or vertically
• The photograph cannot be altered in any way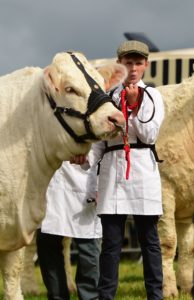 In the first instance, videos and photographs must be e -mailed to irishcharolaispictures@gmail.com on or before the 22nd October 2021. The overall winner in each category will be announced on the 29th of October 2021 and will receive a €1,500 voucher which can be used at any official Irish Charolais Cattle Society Sale. Each Country will then submit their winner in both categories to Charolais International on or before the 1st November 2021. Charolais International will select one overall winner in each category, which will be announced on the 1st December 2021. The overall winner in both categories will receive €1,000 prize money and a Charolais International Award. Each Country's winning video and photograph will be made available on the Charolais International website – https://www.charolaisinternational.com/
This is the first competition of it's kind, and with such attractive prizes we hope we will get some fantastic entries which could go forward to represent Ireland on the International stage. So please get your camera's ready and get your entries in to us before the 1st of October 2021. It's all about taking part!