The second prize winner in the small herds section of this year's ICCS suckler herds competition comes from County Cavan, and what a herd of quality it is. Owned and run by Raymond Cooney, the farm is based in Clifferna, just outside Stradone in East Cavan. Raymond keeps approximately 20 suckler cows, which are mostly Charolais crosses, with a smaller number of Limousin cross cows in the herd. The herd is entirely spring calving and operates a calf – weanling system. The cows are run with the herds Charolais stock bull, with a small number kept for AI each year.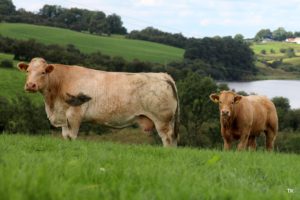 Charolais cross cows and calves on the farm
Raymond always had a great interest in farming and when he decided to get into suckling, he chose Charolais, mainly for their "quality, temperament and impressive kill out,". He started off his herd with the purchase of one Charolais heifer. The herd has been built around this heifer and today comprises of an outstanding herd of cows and calves. Replacements are home bred every year, through AI and the herd's stock bull. The efficiency of the herd is highlighted by it's 365 day calving interval and the number of calves produced per cow sitting at 0.95. The maintenance cost of the cows is also impressive. Raymond estimates the maintenance cost of each cow to be approximately €520 per year.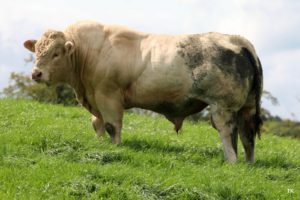 Garracloon Pride and Joy, the herd's current stock bull
The last two stock bull's on the farm have been purchased from County Mayo breeder, Aiden Mac Hale. The current stock bull is Garracloon Pride and Joy, who is a son Derryowen Harvey, out of a Pirate bred dam. As well as being a very attractive bull himself, he is also stamping his calves with great shape and class. This bull carries a four star terminal index of €140 and a three star replacement index of €65. The stock bull prior to this was Garracloon Gibs, a son of Lyonsdemesne Tzar and a Dovea Gin Tonic bred dam. Despite having some exceptional daughters in the herd, with great fertility and milk, Gibs has a one star replacement index value of €27 and a one star terminal index value of €101.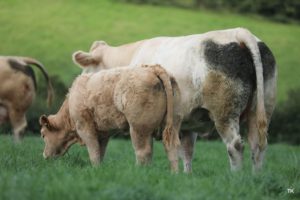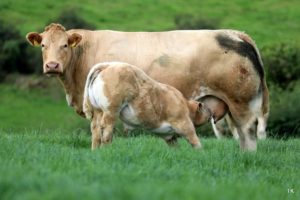 Cows with Charolais cross calves on the farm
Last year the weanling bulls were sold at 6 months old, at an average weight of 320kgs, at an average price of €920. Raymond is a firm believer in weight for age. This is clearly coming through in the bull calves, with an average daily live weight gain of 1.5 kg/day being achieved up to weaning. It must be noted that meal is not introduced to the calves until 4 weeks before sale. Instead, milk, growth rate and performance are paramount.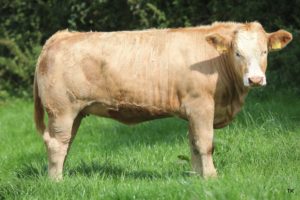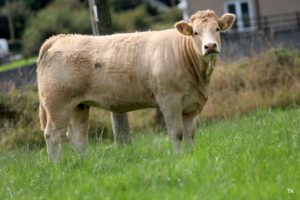 Two Charolais heifers who will be kept as replacements 
The best heifer calves are retained each year for replacements. Some of these would be Limousin crosses coming through from AI. However, Raymond has always found the Charolais cross cows to rear exceptional calves. He explains "I have been keeping replacements off my Charolais stock bulls for over 10 years now, and my cows have milk in abundance. This is key to good weaning weight's, with little input costs. At the end of the day, it's all about keeping costs down and getting as much as possible for your calves."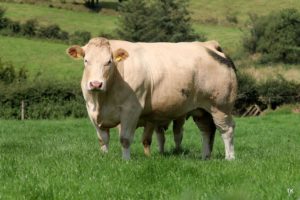 Charolais cross cows on the farm
Once again, this is a herd with tremendous quality. The farm is exceptionally well managed by Raymond, who selects only the best to breed from. This is evident in the quality and sheer performance of the cattle on the farm today. It is a wonderful example of what Charolais can do as a maternal sire within a suckler herd, with the correct selection methods and genetics. Congratulations to Raymond and his family on creating and running such a picturesque, and most importantly, efficient suckler herd.