Raymond and Nigel Scally are a father and son who run a suckler farm in Ballymacugh, just outside Kilbeggan in County Westmeath. The pair came second in the large herds category of this year's ICCS suckler herds competition. This herd is the only calf – beef system which made it into the top six herds this year. The Westmeath men keep approximately 70 Charolais cross suckler cows, split between Spring and Autumn calving. All cows are run with the herd's Charolais stock bull, with a small number going to AI every year.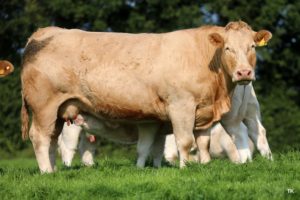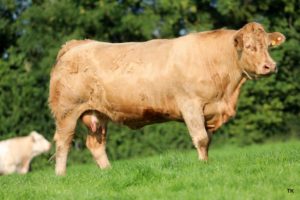 Examples of Charolais cross cows on the farm
The Scally's are great advocate's of the Charolais breed. They firmly believe that Charolais is the breed to bring you that ultimate performance, both maternally and terminally. This is clear when you see their outstanding herd of Charolais cross cows. Their cows have milk in a abundance, which obviously shines through in their calves. A number of homebred Replacements are kept annually, with a small number bought in every year, mostly from Elphin Mart. Nigel explains ' we normally look for that nice orange or white Charolais cross'.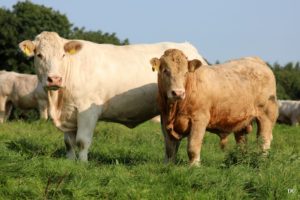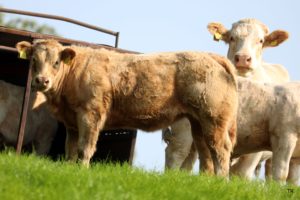 Charolais cross cows with Charolais cross calves on the farm
The performance of the cows in the herd certainly backs up the Scally's theory. The average calving interval of the herd is 377 days. The number of calves produced per cow per year is 0.95. It is fair to say that the size of cows in the herd are above average, giving them added value at slaughter. The average carcass weight of the cull cows slaughtered recently was 411kgs, with an average grade of U=3+.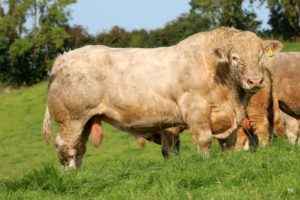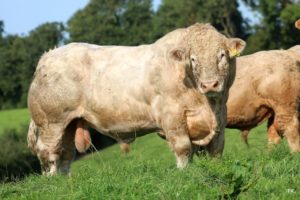 Scregg Michael, the stock bull currently in use on the farm

The herd's current Charolais stock bull is Scregg Michael. Bred by Michael Brehony from County Roscommon, this bull was purchased at a Society Sale in Tullamore in 2018.  A son of Liscally Eti, out of a CF52 bred dam, the Roscommon bred bull has turned out to be real meat producer, with a whopping five star terminal index of €156. However, the Scally's are quick to point out that Michael was a low index bull when they purchased him in Tullamore in 2018. His on farm performance clearly driving his index upwards since purchase.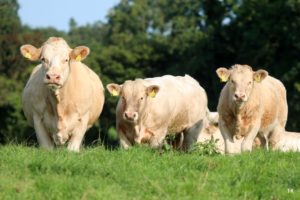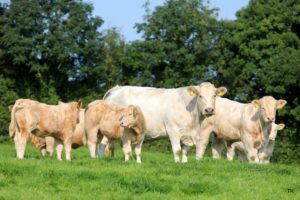 More Charolais cross cows with Charolais calves on the farm
Young bulls are usually slaughtered under 16 months of age. However, the last batch of bulls were slaughtered at an average age of 18 months. They averaged 460kgs carcass weight, with an average grade of U+3-. All young bulls are finished indoors with ad lib meal for a period of approximately 100 days. All animals on the farm are finished with home grown cereals and fodder beat.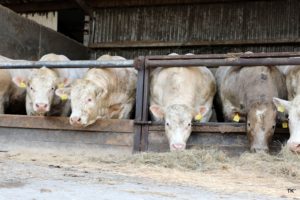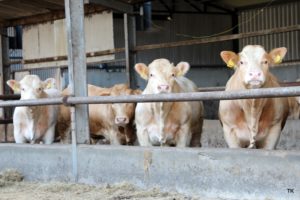 Young Charolais bulls inside for finishing
Heifers are usually finished between 24 and 30 months. The most recent heifers slaughtered on the farm averaged 410kgs carcass weight, with an average grade of U+3=, all under 30 months of age. Approximately 70% of the heifers are finished inside, with the remainder finished straight off grass.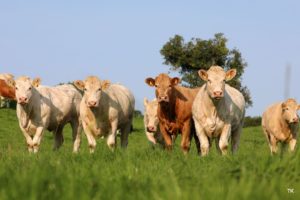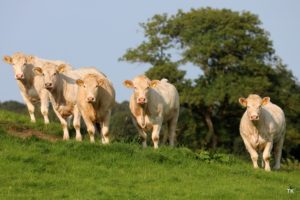 Young Charolais cross heifers on the farm
It is evident that the the Scally's are passionate about their suckler enterprise and put great faith in Charolais, both as a suckler cow and a terminal sire. This herd was selected for it's outstanding quality and tremendous influence of Charolais. It demonstrates what can be achieved what with the correct Charolais genetics. Another fantastic example of what Charolais can bring to the table.