This year the Society ran a Youth Development Competition in conjunction with Charolais International. The competition was for the best video and picture, to promote Charolais in their own Country. The prize in both categories was a voucher for €1,500 which can be used at any official Irish Charolais Cattle Society Sale. The winners in both categories went on to compete against other countries in Charolais International. The overall winner in both sections would then receive €1,000 prize money from Charolais International.
Below is Irelands winning video, submitted by Aidan Kinahan from County Limerick. Aidan's video also came first in Charolais international. Congratulations Aidan, a brilliant video highlighting the benefits of using Charolais in Ireland.
Watch the video here – https://www.youtube.com/watch?v=c4pUxOcBP-Y
Ireland's winning picture went to Cathal Gormley from County Roscommon. Unfortunately, Cathal's picture failed to take top spot in Charolais International, which was won by an entry from Canada.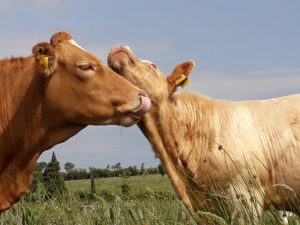 Cathal Gormley's winning picture
The Society would like to thank everyone who submitted entries for this year's competition. Congratulations once again to the winners in both sections.