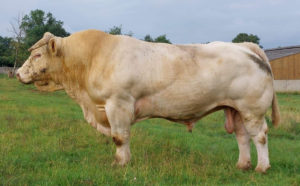 Leopard CH8502
Leopard is an outstanding specimen of the Charolais breed and one of the most exciting Charolais bulls to come available to Irish breeders in recent times. He is jointly owned by Jean Louis Riotte in France and Esmor Evans in the UK. Bred by Oliver Dessauny, he was used in a pedigree herd for over six years, before being purchased by Riotte and Evans for use in their own herds. He was spotted by representatives from the Society on a trip to France last year, standing out from everything else.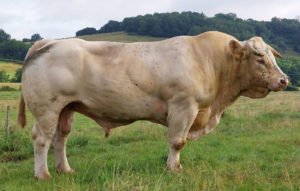 Leopard
His mother Astar comes from a prolific cow family. She herself is a daughter of Ocean 58 and the outstanding show cow, Orangeade. His father Edelweiss is an outcross for most Irish breeders, combining Unbon and Onde. Leopard is coming eight years old this year and is perfection on his legs and feet. He displays all the characteristics that made Charolais the breed it is today. He has length, width, depth, correctness, softness, with a wonderful kind head.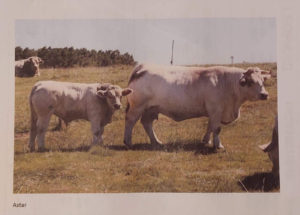 Astar along with Leopard as a calf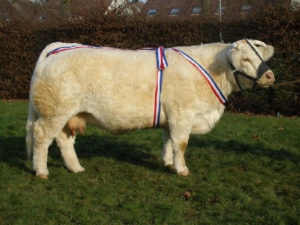 Unestar, full sister to Astar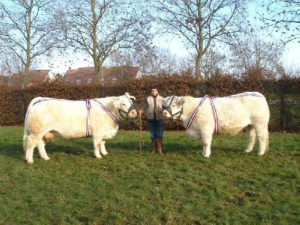 Unestar and her daughter Bellestar
Leopard has been brought in as an option for pedigree breeders to breed replacement females. His impressive pedigree, outstanding Charolais character, and phenomenal quality make him a must for Charolais breeders here in Ireland. He should be best suited to smaller, fleshier type cows. He is recommended for use on cows only at present, until calves start to hit the ground here in Ireland. Leopard has no Genomic Evaluation at present, as he was only recently genotyped. He is free of Progressive Ataxia and carries one copy of the F94L profit gene. He is now available from the Society at €50/straw.
Myostatin results: Q204X = 0 F94L = 1
Progressive Ataxia: Non carrier