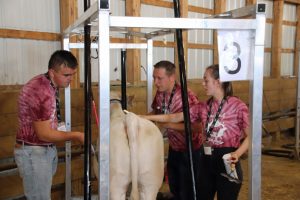 We are delighted to inform you that we will be hosting a young handlers workshop on the 2nd of July, 2022 in Tullamore Mart (R35 A662). This event will be starting at 12pm sharp and depending on the group sizes we should be finishing around 2:30-3pm.
This workshop will be for all our young members (primarily aged between 12-22 years old, however if you do not fall into this category, you may still attend).
What is on offer at this event?
We want to make this event as enjoyable as possible for our members so we have arranged a list of demonstrations and speakers that will cover the following areas:
Getting an animal ready for a show/sale day;
How to feed an animal for a show/sale;
Grooming and clipping demonstration;
How to present yourself and the animal in the show ring;
What to look for when judging a Charolais animal;
Social Media and photography;
Health and safety at shows.
Pre-registration is required for this workshop
You can pre-register for this event by simply emailing your name, age and address to Irishcharolaisyma@gmail.com. We are asking for all registrations to be submitted by Thursday the 30th of June at 3pm at the latest.
There will be food and refreshments provided after the event along with a goody bag for our young members on the day.
We hope that you can attend and if you have any questions about the event, please don't hesitate to contact us via our Facebook page or by emailing Irishcharolaisyma@gmail.com.
Young Handler Competitions
In addition to our workshop, we want to highlight that there is a young handler competition running in our National Charolais Show at the National Livestock Show in Tullamore on Sunday the 14th of August.
These two class numbers are: Class 158 for young members aged between 12-16 years old and Class 159 for members aged between 17-22 years old.
Entries are to be submitted through Tullamore show and the closing date for hard copy entries is the 1st of July and online entries is the 6th of July 2022.
There will also be two young handler classes at our own National Charolais Calf Show in Elphin Mart on Saturday the 24th of September.
The Irish Shows Association are also running a fantastic competition for young handlers with great prizes on offer. This competition consists of qualifiers and an overall final at the Royal Meath Show in Trim on the 3rd of September 2022. The classes are as follows:
THE ALL IRELAND JUNIOR YOUNG STOCKPERSON CHAMPIONSHIP 2022: 8-12 YEARS OLD;
THE ALL IRELAND INTERMEDIATE YOUNG STOCKPERSON CHAMPIONSHIP 2022: 13-17 YEARS OLD;
THE ALL IRELAND SENIOR YOUNG STOCKPERSON CHAMPIONSHIP 2022: 18-25 YEARS OLD.
The list of qualifying shows for this competition are listed on www.irishshows.org, along with a detailed list of the prize money up for grabs in each group.
We hope to see many Charolais enthusiasts competing in these competitions over the coming months!
If you have any further queries or questions you can contact us via Facebook @ Irish Charolais YMA, Snapchat @Charolaisyma or contact the Irish Charolais Cattle Society office on 01-4198050.