For years now farmers have been talking about the perfect suckling system. Finding the balance between quality, efficiency, performance, and profitability isn't always easy. One cross that dose seem to be ticking all the boxes is the Charolais Cross Salers. Not far from Borrisokane in County Tipperary, Robert Harding farms full time. He runs approximately 80 Salers cross cows, most of which are crossed with a Charolais stock bull. The results from which are truly outstanding.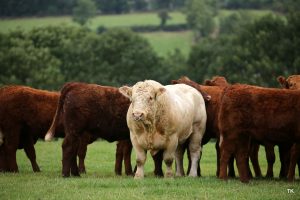 A Charolais bull with Salers heifers
Farming on his own, Robert finds it easier to split calving into Spring and Autumn. Bull calves are sold as weanling's, with the heifers brought to beef. This helps cash flow throughout the year, as well as spreading out the workload for a one-man operation. Robert finds that the Charolais Cross Salers suits his system perfectly. "I can sell my Charolais as weanlings or bring them to beef, that is the beauty of the Charolais as a sire".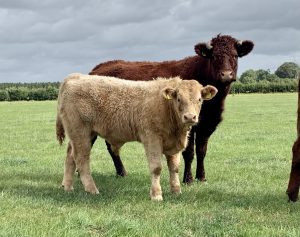 A Charolais cross bull calf on the farm
Robert first introduced Salers into the herd over 20 years ago. He uses a small percentage of AI and runs a Salers bull to keep replacements coming through. One of the most successful purchases on the farm was the Charolais bull, Knockmahon Master. A son of Harestone Hercules and a Lyonsdemesne Tzar bred cow, Master was bred by the late Christy Comerford from County Kilkenny. Robert describes this bull as the best bull ever used in the herd. Unfortunately, Master got hurt earlier this year and had to be culled. He killed out with a staggering carcass weight of 806kgs and graded a E=. The most recent Charolais bull used on the farm is a son of CF 52.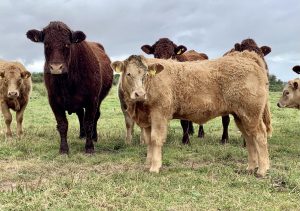 An example of the Charolais cross heifer calves on the farm
In May of this year Robert sold his Autumn 2021 born weanling bulls at an average age of 8 months old. The first batch averaged 420 kgs and sold for an average of €1,230. The younger weanling bulls averaged 394kgs and sold for an average of €1,125. It should be noted that these weanling bulls are only fed meal for four weeks prior to sale. The ability of the Charolais weanlings to put on weight off the Saler cows is more than evident. Last February Robert brought Charolais cross heifers to the fatstock show and sale in Portumna Mart, where he received first prize and sold for the top price. The most recent group of Charolais heifers were slaughtered at an average age of 25 months old. They killed out with an average carcass weight of 425kgs and graded a U= on average.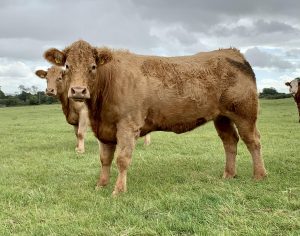 A Charolais cross heifer being finished on the farm
The efficiency of this herd speaks for itself. In 2021 the average calving interval of the herd was 364 days. The number of calves produced per cow was 0.99. Charolais Cross Salers also have one main advantage. Their golden soft hair makes them more attractive in the marketplace. Robert was quick to point out that his weanling's top whatever marts they sell at.
It is refreshing to see an efficient, profitable, and sustainable suckling system in the heartland of Ireland. Charolais as a terminal sire combined with the maternal traits of the Salers cow makes this system a winning combination. More importantly, as a full-time farming operation.