There have been many great Charolais sales in recent years, but last Saturday's Premier Sale in Elphin will go down as one of the best Sales held in Ireland in recent times. In total, 45 Charolais bulls sold to a record breaking average of €5,395. The highest average sale price ever achieved at any breed Society Sale in Ireland. This was coupled with an 87% clearance rate in the bulls. A strong showing of UK and Northern customers really boosted the trade. Five bulls sold to the UK mainland, with bulls going to Scotland and Wales. The lairage facility offered to buyers prior to the sale clearly having a positive impact. Bulls topped at €13,000, with heifers selling to €7,600. The small entry of heifers averaged €4,171. A really tremendous day for the breed.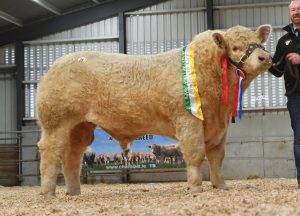 Clenagh2 Sultan
Leading the bull trade at €13,000 was the outstanding Clenagh2 Sultan, exhibited by the Quinn family from County Clare. This lovely example of the breed was a ringside favourite from early on, catching the eye of UK judge Steven Nesbitt to claim the Senior Male Championship. He is a son of the homebred AI bull Clenagh Lyle, who himself was a Champion in Elphin, before selling to the Burradon herd in the UK and is now residing at Balmyle. Sultan's dam Clenagh Ocean is a daughter of Whitecliffe James and goes back to Uni. He sold with a terminal index of €134 and carries one copy of both myostatin genes. Having the final call on the Champion was Desmond Graham from County Donegal.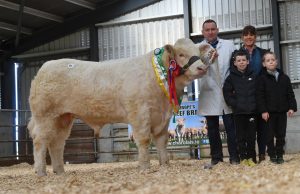 Heartly Tom ET
Next best at €10,000 was the 12 month old Heartly Tom ET exhibited by Gene Mc Cann from County Westmeath. From the moment he entered the ring, this promising young bull showed all the signs of a breeder's bull, and it wasn't long before Steven Nesbitt awarded him the Junior Male Championship.  Tom is a son of the former Paris Champion Neptune, and Doon Janelle, who is a daughter of Glasgow. He went to sale with a massive terminal index of €175 and a calving figure of just 6%. Snapping up the Champion was F H Farming Ltd from County Mayo.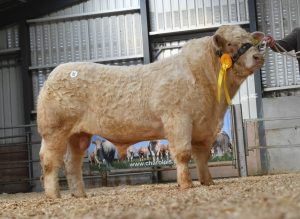 CMC Samson ET
Selling at €8,200 was the third prize winner from the second class, CMC Samson ET, exhibited by Cian Mc Gloin from County Leitrim. This 17 month old bull is a son of CF 52 and Macmelvin1 Heidi. Once again terminal stars were in abundance, coupled with a carcass weight figure of +48.6kgs and a calving figure of just 6.8% on beef cows. He sold to a suckler farmer from County Laois. Mc Gloin went on to have a fantastic day, as he followed on from his earlier success with CMC Sambuca ET selling for €6,500. Sambuca is a full ET brother to Samson and sold to Vencent Kearney from County Mayo.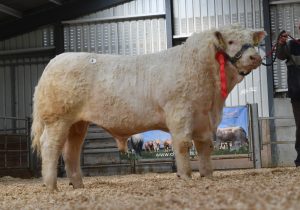 Noble Styx
Up next at €8,000 was the first prize winner Noble Styx, the property of Harry Noble from County Longford. The 18 month old bull is a son of the home bred AI bull Noble Prince and Noble Nice One, a daughter of Lisnagre Hansome. The Longford bred bull carries two copies of the profit gene and a terminal index of €143. He sold to David Watson from Banchory, Scotland.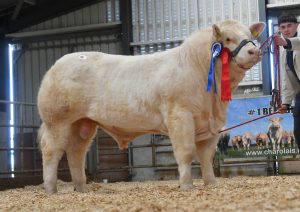 Breaghwyhill Santa ET
Breaghwyhill Santa ET exhibited by Eamon O'Connor from County Sligo claimed the Reserve Junior Champion and went on to sell for €8,000. This classy young bull is a son of the old favourite Oldstone Egbert, and Liscally My Fair Lady 3 ET. He catalogued with a carcass weight figure of 42.5kgs and one copy of both myostatin genes. Santa sold to Innes farms in Aberdeenshire, Scotland.
Trading at €7,800 was Cuillmore Teddy shown by Thomas Keane from County Mayo. This quality 14 month old bull is a son of the popular AI sire Fiston, and a Pirate bred dam. As his pedigree would suggest, indexes and stars were plentiful, coincided with a calving figure of just 5.8% on beef cows. He went to a suckler herd in County Westmeath.
Tullyvillage Tarbh
The last bull of the day Tullyvillage Tarbh romped his way to €7,600. The young 12 month old bull was following on from his success at last year's National Calf Show, were he was Junior Male Calf Champion. Exhibited by William Flynn from County Galway, Tarbh is a son of Bova AI sire Cloughbrack Navarone. He sold to Northern Ireland.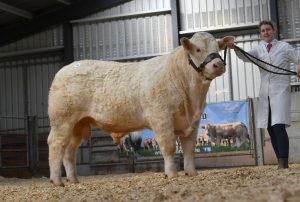 Dalehill Sebastian 
At €7,100 was Dalehill Sebastian exhibited by Basil and Victoria Kells from County Cavan. This powerful son of the French sire Ocelo goes back to Prime Roberto and CF 52. He catalogued with one copy of the Q gene and a carcass weight figure of +40.kgs. He was knocked down to Jimmy Cosgrove from County Meath.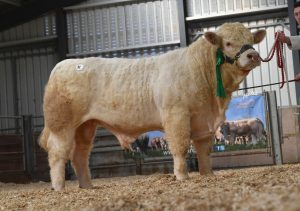 Rooskeynamona Sublime
Gerard Mulligan from County Leitrim received a call of €7,000 for Rooskeynamona Sublime sired by the French sire Ocean. This quality young bull packed a five star terminal index of €135 and a calving figure of just 4.8% on beef cows. He also carries one copy of the F94L profit gene. He sold to a suckler herd in Northern Ireland.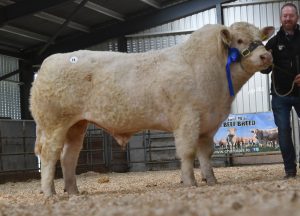 Clenagh Spartacus 
The Quinn family from County Clare were back in the money once again when they realised €6,700 for their second prize winner, Clenagh Spartacus. A son of Whitecliffe James, Spartacus packed a whopping terminal index of €171, a calving figure of just 6% on beef cows, and carries two copies of the F94L gene. He went South to County Cork.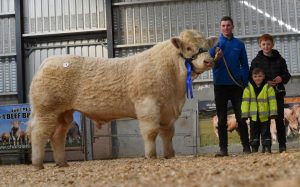 Maghermore Sylvester ET
Michael Grant from County Donegal had a fantastic day at the office, selling his three bulls for an average of €5,100. His best at €6,600 was Maghermore Sylvester ET, a son of Enfield Plexus and a CF 52 bred dam. His stable mate and name sake, Maghermore Sylvester ET hit €4,700. This one is a son the aforementioned Clenagh Lyle. Wrapping up proceedings for the Donegal men was Maghermore Titan at €4,000, a son of Scardaune Mark.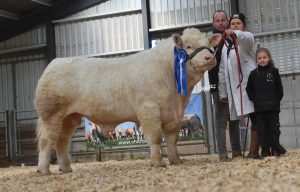 Tonyglasson Sunnyboy ET
Martin Hughes from County Monaghan received a sum of €6,400 for Tonyglasson Sunnyboy ET. Having picked up the Reserve Senior Male Championship, Sunnyboy went to the sales ring with a page full of stars and a calving figure of just 5% on beef cows. He is a son of Newhouse Bigal and Lisnagre Gabby ET. Snapping this one up was fellow Monaghan suckler farmer Jason Hughes.
Other leading prices in the bulls included: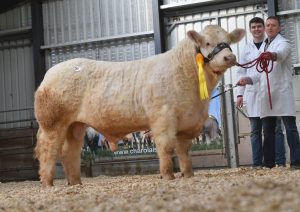 Tonroe Simon
€6,000 for Tonroe Simon sired by Noble Prince and exhibited by Vincent Callaghan from County Mayo
€6,000 for Liscally Sportsman ET sired by Cloverfield Excellent and exhibited by Jon Regan from County Leitrim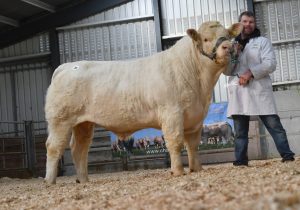 Islandview Tom
€5,800 for Islandview Tom sired by Roughan Miscief and exhibited by Tommy Mc Laughlin from County Donegal
Tonroe Topgun 
€5,700 for Tonroe Topgun sired by Goldstar Hugo ET and exhibited by Vincent Callaghan from County Mayo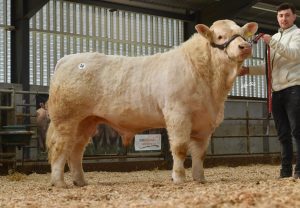 Tullaghan Tyson
€5,400 for Tullaghan Tyson sired by Pottlereagh Mark and exhibited by Michael Daly from County Leitrim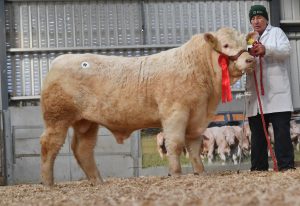 Whinfort Tyson
€5,400 for Whinfort Tyson sired by Cavelands Fenian and exhibited by Geremy Mc Gonigle from County Donegal
Heifers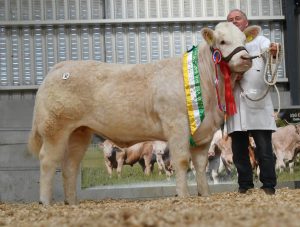 Cloughbrack Sapphire
In the heifers, Cloughbrack Sapphire exhibited by Mattie Kelly from Galway clinched the Female Championship and went on to sell for the top price of €7,600. A daughter of Knockmoyle10 Loki, Sapphire is an October 2021 born heifer who goes back to Sportsman Colombo and Bowerhouses Topper. Carrying one copy of both myostatin genes, she was snapped up by Conor Beirne from County Roscommon.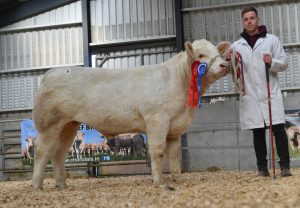 Bonnavella Tait 
The Reserve Female Championship went the way of Bonnavella Tait exhibited by Martin Killeen from County Clare. Tait went on to sell for €7,000, eventually getting knocked down to Gabriel Donoghue from County Galway. A daughter of Fiston and a CF 52 bred cow, this 13 month old heifer catalogued with a four star replacement index of €98, a massive terminal index value of €197, and a calving figure of just 3.9%.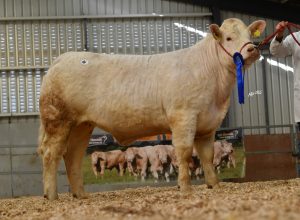 Blackroad Scarlett
Hitting the €5,000 mark was Blackroad Scarlett for John Culloty from County Kerry. A daughter of Lapon and Blackroad Minnie, this 16 month old heifer picked up a blue rosette in the pre-sale show. Michael Ryan from County Limerick had the last bid on this one.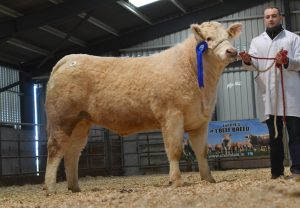 Derryvane Sarkle
Donegal breeder Anthony Rabbett parted company with his 23 month old heifer, Derryvane Sarkle, for a price tag of €4,800. A daughter of Goldstar Othello and a Lisnagre Elite bred dam, Sarkle sold in calf to Pottlereagh Mark. Ronan Mc Gowan from Rooskey purchased this one.
James Mc Sweeney from County Cork traded Rovanagh Sapphire at €4,300. A daughter of Bivouac and a home bred dam by Goldstar Ludwig, this one displayed plenty of stars as well as a calving figure of just 3.4% on beef cows. Luke Brennan from County Sligo was the buyer on this occasion.
The Society would like to congratulate breeders on a truly successful sale. We would also like to thank buyers and bidders for choosing Charolais. A big thank you must go to the Mart and staff in Elphin. Also our Judge Steven Nesbitt, it must be said the English man did an excellent job adjudicating proceedings in the show ring all day. Our next Society sale will take place in Tullamore on Saturday the 22nd of April.