There is a saying that the cream always rises to the top, and on the Tateetra and Rathmore Farm in Co. Louth, this is certainly the case when it comes to the Charolais calves in the herd. It is safe to say that the Tateetra and Rathmore suckler herd, which is overseen by farm manager John Kingham, is one of the largest suckler farms in the country and plays host to some of the finest cows that a farmer could lay their eyes on.
The herd is comprised of close to 500-head of cows, which mainly consists of Limousin, Simmental, Charolais, and Belgian Blue breeding. Calving time is split between both Autumn and Spring-time, with John's target being to have his continental-bred calves fit to sell for the farm's annual sale held in Carnaross Mart around the end of September/start of October.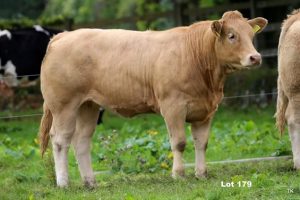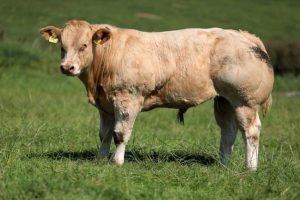 There have been a number of Charolais stockbulls on the farm over the years, with the most recent being Culla Oscar 2 and Culla NSO (both sired by Thrunton Bonjovi), and Deeleview Mogador (sired by Blelack Digger).
When it comes to choosing bulls for the farm, John stated that the quality of the sire needs one of the top priorities. He stated:
"You must buy the right bull from day one, there's no replacing quality and style as a trait in a Charolais sire. Following this calving ease also needs to be a priority."
The farm has recently invested in new Charolais sires which includes the Senior Champion purchased for €12,000 at Irish Charolais Christmas Cracker Sale in 2021 – Tonroe Realmacoy ~ (Sired by Tweeddale Lookout). The first few calves are beginning to arrive on the farm off this new bull, with John reporting that calving ease is very good, will little or no assistance required.
Tonroe Realmacoy
They have also acquired a new stylish son of Lapon, Tonyglasson Sean, in a private deal from Co. Cavan breeder Martin Hughes.
John finds that the best cross is the Charolais bull on the Simmental cross cows. He added:
"You just cannot beat the weight for age of a Charolais cross-bred calf. All you have to do is take a look back at the sales of our weanling bulls and how they excelled in weight gain performance right up to their sale day"
Reflecting back on their most recent sale of 160 heifers and 18 weanling bulls back in September 2022, the Charolais breed stood out as a high performer in comparison to the farms' other breeds of Limousin, Simmental and Belgian Blue weanlings that were also on offer.
From viewing the report, Charolais heifer weanlings achieved a staggering average of €1,687/head. Meanwhile the top-priced Charolais heifer weanling weighing 390kg reached €5,600 (€14.35/kg) – keeping in mind that these females were under 12 months of age.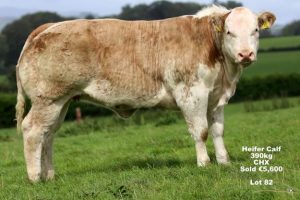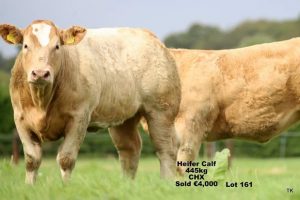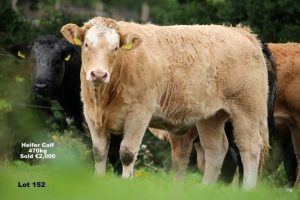 The top price achieved for a Charolais crossbred weanling bull weighing 420kg was €1,890 (€4.50/kg).
Concluding his remarks on the use of Charolais in Tateetra and Rathmore, John stated:
"The Charolais breed will put money into your pocket when it comes to selling, there is just no doubt about it. I have been using Charolais along with a mix of other breeds for years now and the Charolais crossbred weanling will always come out on top. Once you have a quality Charolais bull used on your cows, the quality calves will follow."
The North-Eastern Charolais Club would like to thank John Kingham and the Tateetra and Rathmore Farm for allowing us to profile their fantastic suckler herd. For more information on Charolais bulls for sale in the North-Eastern region you can view the Charolais breeder locator tool here – http://charolais.ie/breeder-locator/ where you will be able to find Charolais breeders in your area.
Thanks to Michael Carey and the North Eastern Charolais Club for sending us in this report.