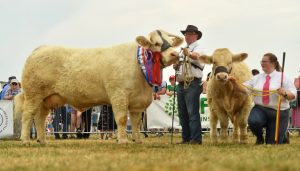 This year's National Charolais Show will take place at the National Livestock Show in Tullamore on Sunday the 13th August. There are 22 classes with 5 championships in the pedigree Charolais section. The total prize fund in the pedigree and commercial Charolais classes is over €15,000.
Class details and entry forms can be found here https://www.tullamoreshow.com/competitions
Entries close on the 3rd July.
Don't miss the biggest Show of any Breed this year!!!