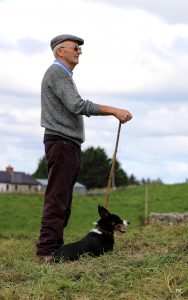 Tom Fitzmaurice on his farm in Derrynacong, Co. Mayo
If there is such a thing as the ultimate suckler herd, this small herd based in Derrynacong, County Mayo is it. Tom Fitzmaurice runs a herd of approximately 20 spring calving suckler cows with a Charolais bull every year. The cows are a mix of Simmental, Limousin and Charolais crosses. In 2021 Tom won the small herd's category of the Society's suckler herd competition. This year he placed second in a ferociously strong category, despite having the youngest bunch of calves in the competition.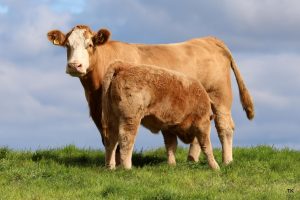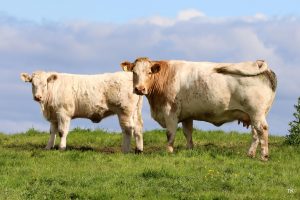 Charolais cross cows and calves on the farm
The herd has become well known in the area for producing top quality Charolais weanling's. Tom has picked up the overall champion of the weanling show and sale in Castlerea Mart on four occasions in the last six years, as well as achieving the top price on numerous occasions. In 2022, the herd came first with two cows and calves in the Society's Super Suckler Cow and Calf Competition in Elphin. Over the year's the herd has built up a phenomenal demand for weanling's, with the heifers usually selling off farm to repeat customers every year.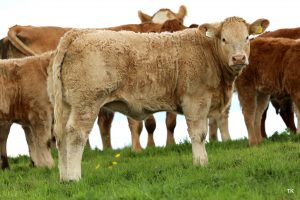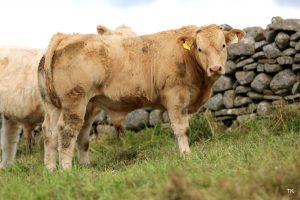 Charolais cross weanlings on the farm
This year's weanlings were all sired by Tom's stock bull, Oghamstone Leo, who is a son of Pirate, out a CF 52 bred dam. Leo was purchased at the 2016 Premier Show and Sale in Elphin for €3,400, when he was just 14 months old. The stock bull prior to this was the well known AI sire, Tonroe Eminem, a son of CF 52 out of a Pirate bred dam. Clearly the two bulls brought remarkable success to the herd.
This year's weanling bulls were sold in Castlerea Mart on the 21st of September. In total, nine weanling bulls sold to a staggering average of €1,205, at an average weight of 275kgs. They ranged from 5-6 months old. Tom sold three weanling heifers the same day, averaging 323kgs and sold for an average of €1,210.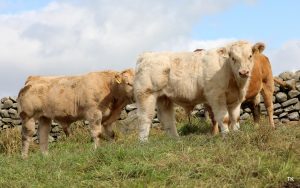 Charolais cross weanling bulls on the farm
But this herd is not just about producing outstanding weanlings, it's efficiency and productivity is exceptional. The average calving interval of the herd is 363 days. The number of calves produced per cow per year sits at 0.98, placing the herd in the top 5% nationally.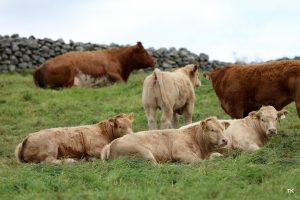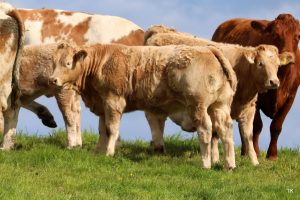 Charolais cross calves on the farm
Just like in 2021, this herd was selected for it's outstanding performance, and the sheer class of the calves. The cows provide milk, fertility, calving ability, longevity, low maintenance and cull value. The Charolais stock bull brings calving ease, weight gain, shape, colour, style and quality. The combination of both makes this herd sustainable, efficient and profitable.