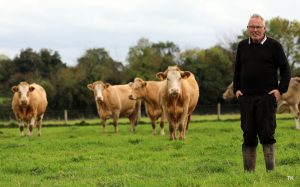 Gerry Connellan on his farm in County Kildare
Gerry Connellan from just outside Maynooth in County Kildare has been farming suckler cows since 1987. In 2018, he formed a partnership with his son Donal, to farm their herd of 47 strong Limousin, Charolais, and Simmental cross cows. The herd is completely Spring calving, mainly from January to March. They run two Charolais stock bulls with exceptional results.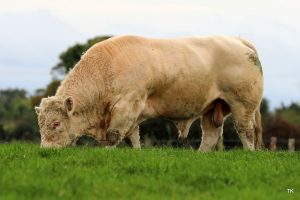 One of the Charolais stock bulls on the farm, Goldstar Sundance
For the last 5 years they have run a homebred son of Fiston. The calves of this bull have been nothing short of outstanding, topping the weanling sales in Elphin consistently over this period. Gerry explains "We are very happy with the breeding from the Fiston bull, he is breeding high quality, mostly U grade calves".  Prior to this they ran a son of Dromiskin Viceroy, again with phenomenal results. The newest addition to the herd is Goldstar Sundance, a Goldstar Echo son who was purchased at the Christmas Cracker Sale in Elphin last year. A bull with big boots to fill.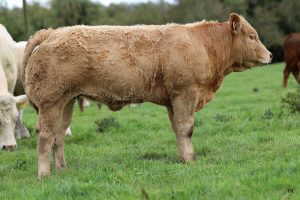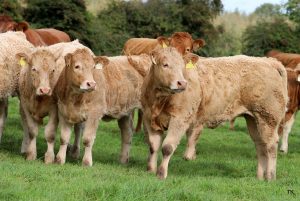 Typical Charolais cross weanlings on the farm
Every year the pair sell their weanlings at the Charolais Show & Sale in Elphin, rarely missing the prize category, a record they are very proud off. Just two week's ago, they won first place for the best pen of weanling bulls and heifers at the annual show and sale in Elphin. A fantastic achievement, considering the standard of calves at this prestigious annual show and sale. The weanling bulls averaged 401kgs and sold for an eye watering average of €1,522. The weanling heifers averaged 345kgs and sold to an average of €1,280. The average age of these weanlings was 8 months old. Their weight's and prices speak for themselves.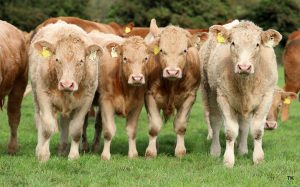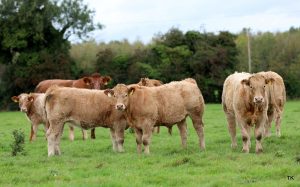 More Charolais cross weanlings on the farm
For the last 5 years the pair have been breeding their own replacements from 5-star Limousin and Charolais cross cows with fantastic results. The average calving interval of the herd is 369 days. The number of calves produced per cow in the herd is 0.98. The mortality at birth for 2022 was 0%. The phenotypic quality of the cows is absolutely outstanding. The combination of the cows and their terrific calves placed the herd second in the large herd category of this year's Suckler Herds Competition.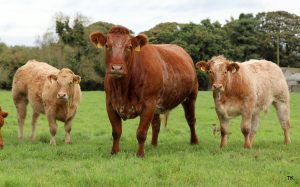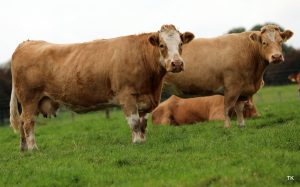 Cows and calves on the farm
The Connellan's are strong believers in driving performance from grass, with little inputs. Quite clear from the paddock grazing system implemented on the farm. They believe in the calves grazing ahead of the cows to increase performance. A system that is obviously working very well. To conclude, an all round tremendous farm, excellently run and managed, utilising Charolais at their best, with outstanding results.