Last Saturday's Elite Charolais Heifer Sale in Carrick – on – Shannon seen the return of the Society to the Midland and Western Livestock Showgrounds for the first time in nearly 10 years. Regarded as Ireland's Premier Pedigree Cattle Sales venue, the Showgrounds certainly lived up to it's reputation. Just over 75% of the heifers catalogued found new homes, selling to a healthy average of €4,275. It should also be noted that a number of heifers left the ring unsold at over €5,000.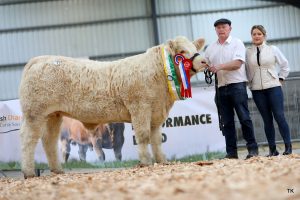 Lisnagre Triona ET
Leading the way at a whopping €18,000 was the Overall Junior Champion, Lisnagre Triona ET, exhibited by Jim Geoghegan from Co. Westmeath. This exceptionally powerful young heifer is no stranger to success, having picked up the Senior Female Calf Championship at the Society's Calf Show in September. She is a daughter of the Society bull Horace JD, and Lisnagre Gina ET, who goes back to the famous Ballydownan Simone ET. After a marathon of bidding, Triona was eventually knocked down to Christopher Dineen from County Roscommon.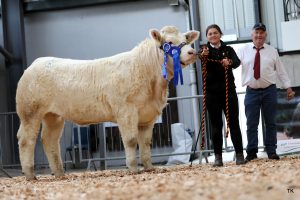 Baurnafea Senorita 
One of the day's real eye catcher's, Baurnafea Senorita, was next best at €11,000. The property of John Bambrick from County Kilkenny, this tremendous Heifer is a daughter of the imported French stock bull Baurnafea Nelson, and a Loulou bred cow. Having picked up the Reserve Senior Female Championship, the Kilkenny bred heifer attracted significant interest in the sales ring, before selling to Gerard Regan from County Roscommon.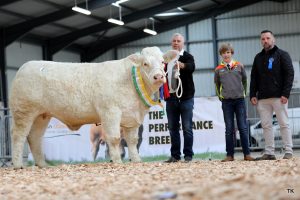 Liscally Special Lady ET
Judge for the day, Medwyn Williams, of the Castellmawr herd in Wales, selected Liscally Special Lady ET as his Overall Senior Champion. Exhibited by Jon Regan from North Leitrim, she went on to sell for €8,000. A daughter of Goldstar Echo and a home bred daughter of Meillard Rj, this October 2021 born heifer sold in calf to Lapon. Having the final call on this one was Damien Mc Caffery from Northern Ireland.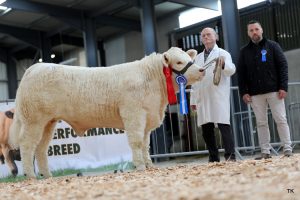 Aghafad Tessa
The day's Reserve Junior Champion went the way of Aghafad Tessa for well known Louth breeder, Paddy Farrelly. Bred by Edward Walshe from County Monaghan, this stylish young heifer is a daughter of the easy calving NCBC sire, Orbi. Once again, Tessa is no stranger to success, having picked up the Senior Female Calf Championship in Tullamore in August. Tessa exchanged hands for €6,000, selling to a breeder from County Carlow.
County Galway breeder John O Grady received a call of €5,200 for his January 2022 born heifer, Glenree Tina ET. This one is a daughter of Lisnagre Hansome and goes back to Royal Paprika on the dam's side.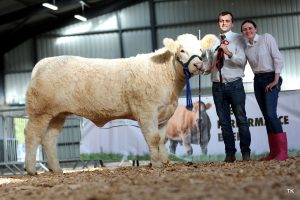 Crossane4 Santa
The Mc Govern brothers form County Sligo enjoyed a good day at the office, when they traded Crossane4 Santa for a sum of €5,000. This December 2021 born heifer is a daughter of Fury Action and Crossane4 Olivia. She was snapped up by a breeder in County Roscommon.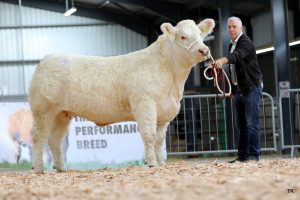 Liscally Star ET
Jon Regan from County Leitrim rounded off a good day's trading, when he sold Liscally Star ET for €5,000. Out off a daughter of Whitecliffe James and a home bred Grimaldi cow, this rising star catalogued in calf to Lapon. Wrapping this one up was local breeder Pat Gilbane.
Sligo breeders James and Karl Kelly traded Ardabrone Stephanie at €4,800. This rising two year old is a daughter of Ardabrone Patrick ET and Bennview Nuala. She sold with a boastful terminal index value of €161. This one was also snapped up by a Roscommon breeder.
The Society would like to thank all exhibitors for putting on another wonderful display of Charolais females, and wish all buyers the very best of luck with their purchases. A special word of thanks must go to the Midland and Western Livestock Improvement Society, and of course their Secretary, Lourda Mc Gowan. The next Society sale will take place this Saturday in Tullamore Mart, with 107 bulls on offer.