Following their introduction in 2017, three new commercial Charolais classes took place at the National Livestock Show in Tullamore recently. Sponsored by the Irish Charolais Cattle Society, the three classes comprise a whopping prize fund of €3,500. The results from the three classes were as follows:
Best Charolais X Male under 425 kg
1st. Roy and Clive Stevenson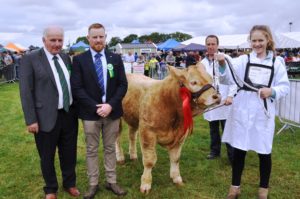 Kevin Maguire, President of the ICCS and Clive Hoey, Judge, congratulate the Stevenson family on winning the first class of the day.
2nd. Roy and Clive Stevenson
3rd. Shane Giltinane
4th. William R. Gubbins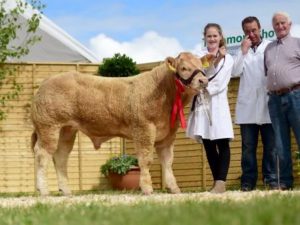 Best Charolais X Male under 425 kg exhibited by the Stevenson's from County Donegal
Best Charolais X Female under 385 kg 
1st. Maxwell brothers
2nd. Ciaran Golden
3rd. David Hegarty
4th. William R. Gubbins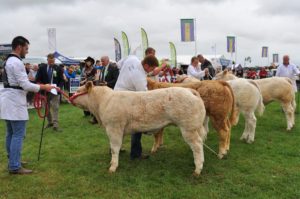 Best Charolais X Female under 385 kg exhibited by the Maxwell brothers
Best Charolais X Heifer or Bullock with no more than two permanent teeth 
1st. George Hegarty
2nd. Kieran Killeen
3rd. Roy and Clive Stevenson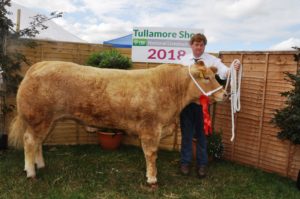 Best Charolais X Heifer or Bullock with no more than two permanent teeth exhibited by George Hegarty