Following it's great success in 2018, the All Ireland Super Suckler Cow and Calf Competition returned to Bonniconlon Show last week. The competition was introduced in 2018 to promote the use of Charolais as a terminal sire and to demonstrate the breed's ability to cross on a wide range of different cow type's. This year there were 10 pairs of cows with top quality Charolais calves at foot, competing for the attractive prize fund of €3,500. Judge for the day was Gerry Connellean from Lady Chapel in Maynooth, County Kildare. Gerry is best known for consistently producing prize winning Charolais cross weanling's, which he sells in Elphin Mart every year. Catching his eye and taking home first prize of €600 was Kevin Sweeney from Culleens, County Sligo. Kevin's two Charolais calves are sired by the Dovea AI sire's, Knockmoyle Loki and Crossmolina Euro.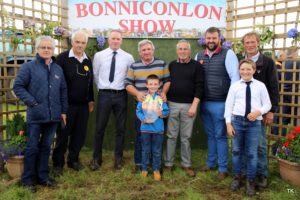 From left – right, John Beirne ICCS, Gerry Durkan Bonniconlon Show, Noel Mc Goldrick President ICCS, Kevin Sweeney Sen & Jun 1st Place, Gerry Connellean Judge, John Lynch Dovea Genetics and Alan & Nigel Wood ICCS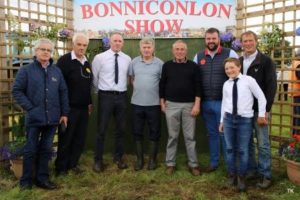 In second place was Francis Lyons from Bunowna, Easkey, County Sligo. Francis's two calves are sired by the well known AI sire, Fiston. 
The remaining results were as follows:
3rd David Swift, Stokan, Enniscrone, Co Sligo
4th Kevin Sweeney, Culleens, Co Sligo
5th Alan Wood, Cloonamine House, Crossmolina, Co Mayo
6th Padraic Finnegan, Knockadoo, Coolaney, Co Sligo
7th Padraic Finnegan, Knockadoo, Coolaney Co Sligo
8th Alan Wood, Cloonamine House, Crossmolina, Co Mayo
9th Kevin Howley, Carracrum, Bonniconlon, Ballina, Co Mayo
10th Seamus Ruddy, Ratheskin, Kincon, Ballina Co Mayo
A massive thank you and mention to the exhibitor's, Bonniconlon Show, and the two sponsors of the competition, Mayo-Sligo Livestock Mart and Dovea Genetics