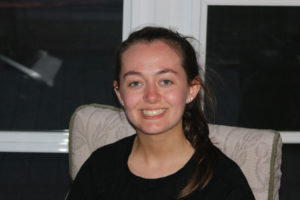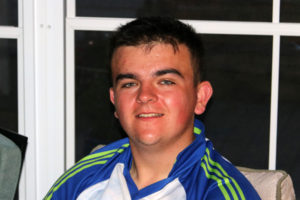 Sarah Armstrong and Cathal Gormley 
Before we begin, we would especially like to thank the Irish Charolais Cattle society for facilitating our trip, it was a privilege and honour to represent Ireland on an International Level. We will remember this trip for years to come. We would also like to thank everybody who wished us well on the trip.
We met at Dublin Airport on Monday 22nd of July and boarded our long flight for Regina. Once we landed, we were met by Candace and Helge By, we had a lovely welcome and can't thank them enough for their hospitality throughout our trip. Both Candace and Helge are heavily involved with the Charolais breed, Helge is the manager and publisher of the Charolais Banner magazine in Canada, Candace is the secretary of the International Charolais council along with being the editor of the Charolais banner.  We stayed in a hotel in Regina for the first two nights to allow us adapted to the time zone change and wait for fellow International Delegates to arrive. There were delegates from New Zealand, Hungary, Estonia, Australia and the USA.  We spent Tuesday doing touristy things around the city, we first toured the Royal Saskatchewan Natural History Museum, visited the Saskatchewan Legislative Building, followed by a trip to the Royal Canadian Mounted Police Museum, finally we had a trip to Cow Town and a shopping centre.   After the long day we had gorgeous steak at Candance and Helge, follow by bowling and then back to the hotel for an early start the next day.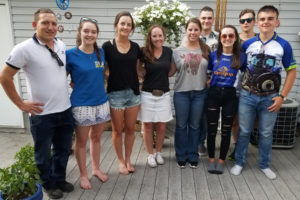 On Wednesday we had an early start and headed of for the Canadian Charolais Youth Association (CCYA) Conference and show in Weyburn.  We were warmly welcomed by all the Canadian Charolais breeders. We got a tour of the show barn and were introduced to our different herdsman group.  A herdsman group consisted of 9 young Charolais breeders ranging from senior, intermediates, junior and one International. Throughout the week the herdsman group mind and take care of the cattle. Every task from feeding, cleaning, washing and grooming the cattle throughout the week is done by the children. There is nearly no adult participation throughout the week. The first task we undertook was induvial stock judging. There were three different groups of cattle to judge, bull calves, Heifers and steers. Once we viewed the stock and made our placings, we then needed explain our reasons for our placings to a master judge. After the judging we did our evening jobs feeding the cattle. At night then we were split up into random groups and competed in fun evening activities. We headed back to our hotel for a very early start the next morning.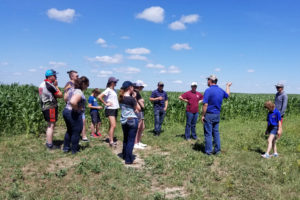 On Thursday we had an early start at 6am to wash and dry all the cattle before 8am. Once we had the cattle washed and fed, and breakfast ate, we got ready for team judging. Sarah judged her class teaming up with Marcus from Estonia.   She did an excellent job. Cathal teamed up with Emma from New Zealand as ring steward, they both performed exceptionally well. There was also an option to take part in team marketing which other International delegates did.  After lunch, we took part in team grooming. This is where the Internationals were split into three groups of three.  Cathal, Sarah and Stevie from Hungary were all grouped up together and groomed there chosen calf excellently, although there was a few funny looks it was groomed the Irish way, which is totally different to the traditional way cattle are groomed in Canada.  After team grooming, we took part in individual marketing. We were given a topic of an app providing showing services and had to market this product.  When these activities were finished that evening, chores were completed and we had dinner, we then took part in the keep and cull competition. This competition involved 5 cow and calf pairs. We visually inspected the cows and had data on their calving intervals along with their previous weaning weights. There had to be 3 cows kept and 2 cows culled from the bunch. After a very tense 45 minutes of decision making the master judge gave his reasons on what was kept and what was culled. Back to the hotel again for a very early start again the next morning.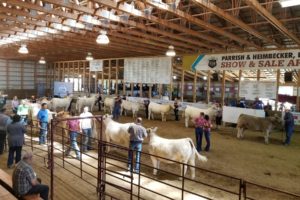 Friday again an early start at 6am. An action-packed day ahead. Again, morning chores were completed. First task of the morning was taking our group photos, after our photos were taken, we then had showmanship. We were given a demonstration by an expert Canadian handler.  We were shown the different ways to hold the rope along with how they stand their cattle different to how we stand them in Ireland.  After our demonstration we got to view a senior class of showmanship before all the international delegates competed against each other. It was a close competition between all the handlers, to the Irish delight Cathal finished 5th closely followed by Sarah in 6th. After lunch we had a number of education seminars. We got a talk from a vet about the digestion system of a ruminant animal. Following on from this seminar we were then given a presentation on social media, its benefits and how we can use it to publicise the positive aspects of the agricultural industry. After that very interesting talk we headed to a local abattoir to view the carcass of the 4 steers we judged during the week. This was very interesting getting to see how each animal killed out. Getting to see each cut of the animal along with getting to see the marbling of each carcass.  After our three very informative seminars we headed back to the barn for the evening jobs again. There then was provincial meetings for the Canadian youth. The International delegates didn't attend these instead we looked after the cattle and stands while the meetings took place.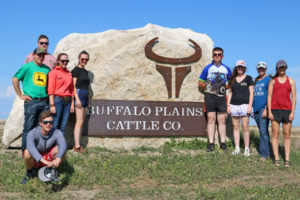 Saturday then was the final day of the CCYA conference. Again, like every other day an early start at 6am to complete the morning jobs. The closing ceremonies took place after breakfast involving all the youth members parading around the ring. It was a very enjoyable ceremony to finish off the week of showing. After the closing ceremonies were finished the International delegates were able to take a step back and enjoy the conformation show. There were some excellent cattle on display with stiff competition within each class. The grand champion was eventually won by a lovely heifer exhibited by Shelby Evans. With the reserve grand champion another excellent heifer exhibited by Mason Beck. Once the show was finished there was the big tear down and tidy up because there was a Hereford show taking place the following Monday, so the barn had to be cleaned out. After all was cleaned out then cattle were released and went home. It was back to the hotel for us to tidy ourselves up for the banquet taking place that night. The banquet started with a lovely meal before the awards were announced. The awards were just for the Canadian young members with some excellent prizes for the winners. The best herdsman group was won by group 6; this was the group in which Cathal was a member of.  All of the international delegates were given the overall scores from competing all of the tasks during the week. the highest mark went to Sarah from Australia with Cathal and Kaitlyn from America closely behind in joint 2nd. After the awards was over it was a very late night of county music and dancing. We can both say that the CCYA conference was a very enjoyable experience, we can't thank the Canadian hosts enough for all the help and tips they gave use throughout the conference.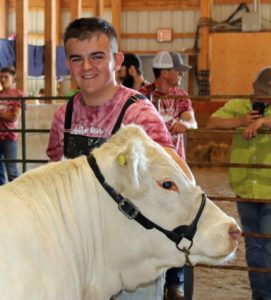 Our first farm visit today was at Beck Farms. They currently have 200 purebred cows, 100 commercial cows and 6000 acres of grain land. We got a chance to see many of their show animals in their working clothes that we had seen a few days prior at CCYA. While on the farm we also got to see the effects of the extremely cold Canadian weather. Some animals ears (and even a tail!) had been frostbitten. Many of us had never seen this before, but it was a reminder of how cold Canadian winters can be. On the other hand, this has had no effect on the animals performance.
Our next stop was to Castle Butte. It's is a freestanding structure made of sandstone, clay, alkali & coal deposits. Its a relic from the ice age, and was used as a landmark by the native people, north west mounted police and settlers. The climb wasn't easy but was worth it in the end when we got to see the views from the top. When we made our way down, we got to see a Gopher up close. They are a small burrowing animals which causes a lot of damage to crops and fields. They also carry diseases such as lepto, so farmers work hard to eradicate them off their farms.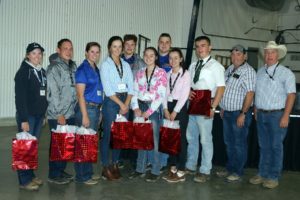 Our second herd visit was at Elder Charolais. The herd was established in 1991 and they currently have 140 purebred cows, 160 commercial cows and 2500 acres of grain land. Elder's is a renowned herd, with one of their bulls selling last year for $50,000 to the Palmer Charolais herd which we visited later on in the week. While touring around we got to see more of the red Charolais. The red Charolais was introduced as farmers wanted to bring more color into their cattle. While some are a dark red color, many are a golden color and are all purebred. Many of us didn't know about red Charolais prior to our visit to Canada. The polled Charolais is also prominent in Canada with very few horned Charolais. As cows calves outside, this reduces the need to dehorn calves. We had supper at Elder's before our next stop.
Just before we reached our motel in Assiniboia, we visited the St. Victor Petroglyphs. There is over 300 carvings on rocks at the site. It's unknown what their purpose is but it gives clues about the people who lived in Saskatchewan hundreds of years ago. The petroglyphs were carved between 500- 1700 A.D. and the site was a place of great importance for the Indigenous people. We were able to observe the glyphs from a look-down point, but we were also able to admire the amazing views from the site.
We had our breakfast and checked out of our motel before travelling to Rosso Charolais. The farm is based in Moose Jaw, Saskatchewan. Many of us had already met Darwin, Will, Hayley, Raelynne during our time at CCYA. The Rosso family have provided a lot towards youth development in the Charolais breed. They donated a heifer which raised $30,000 for the CCYA, as well as donating money towards our merchandise for the week. The farm consists of 120 purebred cows, 100 commercial cows and 25 purebred red and black angus cows. As we travelled around the farm, Darwin gave us a run through of his breeding and his annual bull sale with Howe family farms. This is their 29th bull sale, and for the past 13 years they have sold the bulls via video auction. While a video of the bull plays inside, the bulls are penned outside. This system has worked well for them, and several other breeders who have bull sales. When we made it back to the farm, Will brought us to see the yearling bullls. Here we also met an alpaca and a goat who stay with the bulls! The Rosso's provided us with lunch before we headed off to the next herd.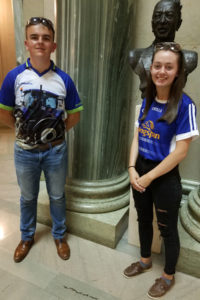 Our 2nd stop of the day was at the Howe family farm. We had also met the Howe's during our time at CCYA as their children was competing in many of the junior events. They currently have 300 purebred Charolais and Angus cows. We first looked at the incalf heifers before going to view some embryo calves and their recipient mothers. The Howe's usually use Hereford cross or purebred angus as recipients. Embryo transfer is quite expensive compared to home, with costs starting at $400 for implanting the embryo alone. We also got to see the he of irrigation on the farm. The farm has a contract with the local city. All water is pumped out to the farm and must be used. This can prove difficult when they are experiencing a lot of wet weather. The irrigation was currently rung used on a corn crop, they only one we saw during our time in Canada. Julie-Anne provided us with some caps and bottles, as well as some Saskatoon berry muffins. We then made our way into the city of Moose Jaw for our next stop.
We learned about the history of the city, it's connection to Chicago and Al Capone, an American gangster, when we completed the Tunnels of Moose Jaw. We then went shopping for souvenirs before grouping up again for supper. We spent the remainder of our evening at the Temple Gardens Mineral Spa.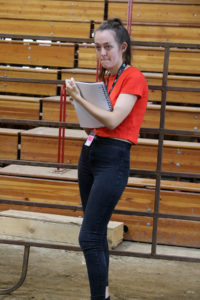 Our final day was spent touring two more farms and a feedlot. Our first stop was Horseshoe E Charolais owned by the Evans family. We had met Shae-Lynn, Shelby and Calina during our week at CCYA also. The Evan's 2-year-old cow was Grand Champion female during the show at CCYA, and we got the opportunity to see her in her working clothes back home. Paula showed us the new barn they had built for calving cows, but also a place to have their video bull sale. Shae-Lynn brought us down to the lake to show us the damage otters cause to the trees around them and we also got the chance to pick some Saskatoon berries before heading back to the barn for lunch.
Our final farm tour was at Palmer Charolais. They currently have 160 commercial cows and 130 purebred cows. Palmer's currently have 3 stock bulls and use no ai on the farm. Two bulls were purchased at a tidy sum of $50,000 each, and another at $30,000. Palmer Charolais have sold bulls for over $40,000, so the stock bulls have certainly paid for themselves. One of the $50,000 bulls was purchased from the Elder Charolais herd, which we had visited a few days prior. We then visited the barns. While most cows are calves outdoors, some cows are calved indoor, but as soon as the calf is dry they are put outside.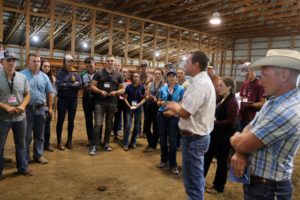 Our final tour of our trip was at buffalo plains feedlot. 25,000 cattle are currently fed there, while there is plans to expand to 30,000. We got a tour around the pens before Kristen showed us their impressive handling facilities. It certainly doesn't be an easy task handling livestock, but trying to handle 25,000 is a different story. The systems in place is just extraordinary, with animal husbandry a top priority. Kristen also gave us a run through on what grain cattle are fed, as well as additives.
We all headed back to Helge and Candace's place for supper. This gave us a chance to reflect on our week and say our final goodbyes before we headed home the next day. During our week we made some great friends from all over the world. We learned about the Charolais breed in each of the country's, which let us appreciate the adaptability of the Charolais breed no matter where they are.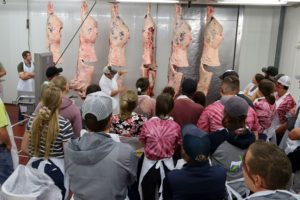 Overall, we had an extremely enjoyable week. Firstly, we would like to say thank you to Nevan and the Irish Charolais Society for giving us this opportunity of a lifetime to travel to Canada and represent our country. Thank you to everyone at CCYA who helped us during the week, allowing us to get involved in all the activities and making us feel so welcomed. Thank you to all the breeders who welcomed us onto their farms. It was clear to see the passion everyone had for the Charolais breed. The quality of the cattle was impeccable, the emphasis put on breeding quality animals, who calve unassisted, have excellent confirmation and maternal ability's as well as the hardiness to withstand the cold Canadian winter could be seen clearly at every farm we visited. It really did not come as any surprise why the Charolais breed is so popular when we got to view these excellent farms. Last but not least, a huge thank you to Helge and Candace. The amount of work put in to organize trips, hotels and food wasn't easy, but they couldn't have made it run any more smoothly than it did. Our week was jam packed with experiences that we will forever treasure. Helge and Candace, along with Heather (New Zealand), Emma (New Zealand), Sarah (Australia), Kaitlyn (America), Marcus (Estonia), Kerio (Estonia) and István (Hungry) will always be our friends, and we will be sure to keep in contact and hopefully get to see each other again in the future.