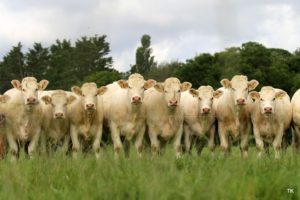 On the 14th September 2019, one of the oldest and most iconic Charolais herds in Ireland will be dispersed, Skidoo. The Skidoo Charolais herd was established in 1966 by Omer Van Landeghem. The farm is located in Ballyboughal, Co. Dublin, a mere 10 minutes from Dublin Airport. In 1995 Skidoo farm and herd was purchased by local businessman and farmer Pat McDonagh. Today it is one of the oldest and largest Charolais herds in the country.
Sires like Shamrock Ambassador, Flambeau, Emperor, Uranus and Commander were many of the iconic genetic lines Skidoo introduced to Ireland. In the early years, Skidoo was always renowned for winning rosettes at the RDS, with prominent sire lines, such as Skidoo Champion and Skidoo Pacha. Today they sell most of their stock of the farm to a strong customer base they have built up over the years.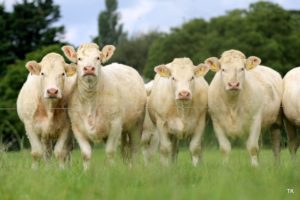 The herd consists of 100 pure bred registered Charolais cows, who are run in conjunction with 160 commercial cows. All pedigree cows are AI bred with 50% calved in Autumn and 50% in Spring. Skidoo herd has always been renowned for milk. Farm Manager Donal Callery is quick to point out that "as this is a large Pedigree herd, its always paramount that every cow is able to rear her own calf".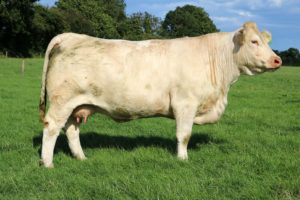 The breeding policy has always been to breed what the market requires. At this time Donal explains that  for them, this is "easy calving, good fertility, early maturing, good feet and legs, yet maintaining milk within our females". It must be noted that the policy is simple regarding breeding females "If a cow is not achieving the above, they are culled".
The Sale will take place on the farm in Skidoo (Eircode: A41FW54) on Saturday the 14th September at 12.30 pm. There will be 122 lots on offer.
Catalogue available here – Download Sale Catalogue