The Tipperary based Goldstar herd owned by Martin Ryan and family enjoyed a memorable day in Tullamore last Saturday at the Society's Elite Heifer Sale. The Ryan's realised €17,600 for their three offering's, which included €11,000 for the Overall Junior Champion, Goldstar Osanna. The much admired Osanna went to sale with a decorative show record, which included the Overall Senior Female Calf Championship from the National Charolais Show in Tullamore last August. At just 14 months old, this Heifer displayed tremendous class and power along with a terminal index value of €155 and a calving figure of just 6.7%. A daughter of the well bred show Heifer Goldstar Jamaique, and sired by Goldstar Hugo, this Heifer also came with a prolific pedigree. After a lively round of bidding from all corners of the ring, Osanna was eventually knocked down to Harry Heron from Northern Ireland.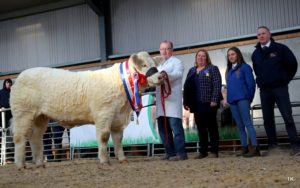 Overall Junior Champion Goldstar Ossana exhibited by Martin Ryan, with Judge Tracey Gunn, Junior judge Veronica Moody and President of the ICCS, Noel Mc Goldrick
The Sale itself resulted in an overall clearance of 68%, with an average of €3,150. Taking into account all the uncertainties at present and the current beef trade, the sale was certainly a positive for the Charolais breed. Next best to Osanna was the Reserve Junior Champion, Colomane Opal exhibited by John Ward from Bantry in County Cork. Once again, this classy 13 month old Heifer displayed style and shape, as well a pedigree and indexes to match. A daughter of Goldstar Echo and the Meillard Rj bred cow, Deeleview Eve, this Heifer carries a five star replacement index of €93, a terminal index of €142 and a calving figure of just 5.9%. Snapping this one up was Noel and Joan Rathgallen from County Tipperary.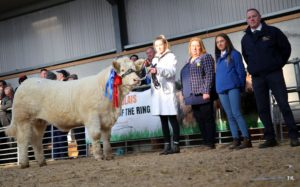 Reserve Junior Champion, Colomane Opal
Judge for the day, Tracey Gunn, Manager of the highly successful Balthayock herd in the UK was accompanied by Junior Judge, Veronica Moody. They awarded the Overall Senior Championship to Dalehill Nadine exhibited by Basil and Victoria Kells from Killeshandra in County Cavan. Their selection was backed up in the Sales ring, when Nadine went under Tom Cox's hammer at €5,200. A daughter of the great CF 52, this powerful heifer goes back to Liscally Eti and Vangogh on the dam's side. In calf to Cavelands Fenian, the rising two year old was wrapped up by Jimmy Kelly from County Limerick.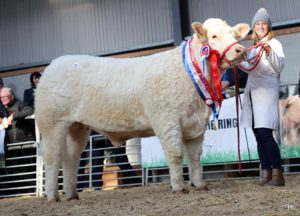 Overall Senior Champion, Dalehill Nadine 
Hitting the €4,500 mark was Grangwood Nora, exhibited by Jerry and Kay O' Keeffe from Knocklong, County Limerick. A third prize winner from the pre-sale show, this two year old daughter of Crossmolina Jupiter and a Enfield Picasso bred dam sold in calf to Whitecliffe James. Not far behind her at €4,000 was the Reserve Senior Champion, Limkiln Nollaig exhibited by Richard Hackett from County Clare. A daughter of Dromiskin Viceroy and a Plexus bred dam, this rising two year old catalogued with an impressive terminal index of €162. Phillip Webster from Castlerea in County Roscommon was the purchaser of this one.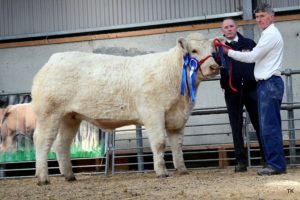 Reserve Senior Champion, Limkiln Nollaig
At €3,800 was Gallaway Orna, a 14 month old daughter of the french sire, Jaquard. Exhibited by Michael Kiernan from Carrigallen in County Leitrim, Orna is a daughter of a Blelack Digger bred dam. Having secured a second prize rosette in the pre-sale show, she sold to Northern Ireland with Liam Ruddy. The Goldstar herd rounded of a wonderful day, when they traded Goldstar Orla at €3,600, one of the last lots through the ring. A daughter of Nelson and a Goldstar Echo bred dam, she catalogued with a five star replacement index of €86. Craig Cullen from Curraghroe in County Roscommon secured this 12 month old Heifer.
Exhibitor's of last year's Senior Champion at the Elite Heifer Sale, the O'Donnell's from Elphin in County Roscommon parted company with their stylish second prize winner, Summervilla Orla at €3,200. A daughter of Cavelands Fenian and a Clonoulty Andraemon bred dam, this one went North to County Antrim. Eamonn O' Connor from Ballinful in County Sligo traded his in calf Heifer for €3,100. This daughter of Indurain and an Excellent bred dam sold in-calf to Cavelands Fenian.
The next Society Show and Sale is the Christmas Cracker, which will take place in Elphin Mart on Saturday the 7th December