The Irish Charolais Cattle Society is honored to nominate Kevin Maguire from Dunderry in County Meath, as the Charolais recipient of the 2019 National Hall of Fame Award. Originally hailing from Ballyconnell in County Cavan from a family of 16, Kevin moved to Dunderry in 1991 after buying a farm there. He still lives and farms there today with his wife Teresa and five children. He set up the RIVERSDALE Charolais herd in 2001. His first major success in the show ring was at the Royal Meath Show in 2005 where he received the Overall Charolais Champion. He has since gone on to win many prizes at numerous agricultural shows across the Country, both in the commercial and pedigree ring. In 2007, a bull bred by Kevin won the Overall Male Champion at the Society's National Show. Then in 2011, Kevin won the Reserve Junior Male Calf Champion at the National Charolais Show with the home bred bull, Riversdale General.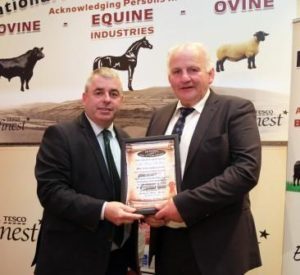 Kevin Maguire receiving his award from Kevin Boxer Moran TD
Earlier this year, Kevin was re-elected to Council at the Society's AGM, topping the pole once again. This will be his third term on Council. He has held the position of Society President for the last three years, stepping down earlier this year after serving the maximum term. Over the course of the three years, he has overseen many changes and improvements within the Irish Charolais Cattle Society. Kevin is the current President of Charolais International, elected at last year's AGM in Sweden. This Presidency will coincide with the World Charolais Technical Congress, which will be held in Ireland this August.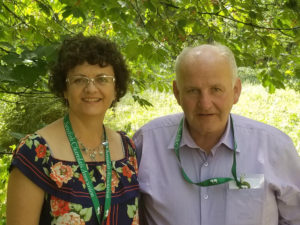 Kevin Maguire after being elected as President of Charolais International with Candace By, Secretary of Charolais International 
Since setting up his Riversdale Charolais herd, Kevin has enjoyed great success as a breeder and has proved in recent years to be a wonderful asset to the Charolais breed, both at home and abroad. The Irish Charolais Cattle Society would like to sincerely thank Kevin for his fantastic service as a breeder, Council member and President.