'It is hard to beat a Charolais Weanling or Store when it comes to the Marts, they are simply always in demand!'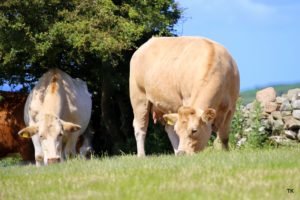 John Barron runs a successful 40 cow suckler herd on his 55 ha farm in County Donegal.  He is a firm believer in the Charolais breed having used Charolais sires on his farm for the past 30 years, and states that "Charolais have always suited this area".  Some of the farms production is focused on a calf to beef enterprise with his bullocks being killed at under 30 months. His heifers, that have not already been selected as replacements, are sold as store animals in the local mart.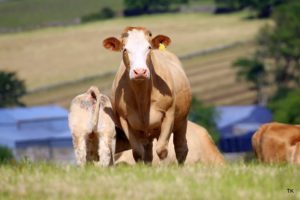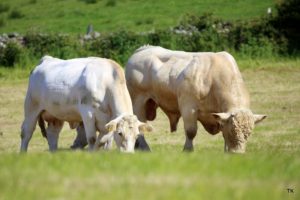 The cows are predominantly Charolais, Limousin and Simmental crosses and are calved down in the spring time, beginning in January.  John's Charolais stock bull, 'WHINFORT ISSAC' sired by Excellent, was purchased at the Irish Charolais Society's Christmas Cracker sale in 2014.  'ISSAC' has a terminal figure of €168 and comes from quite a prolific pedigree.  His dam, 'Whinfort Callic' being 12 years old, has produced 9 calves to date and his grand-dam, 'Whinfort Olivia' being an impressive 21 years old, has produced a total of 17 calves in her lifetime.
John is a participant in the Beef Data Genomics Programme (BDGP) scheme and when selecting his bull, he states that "stars weren't that big of an influence at the time when buying the bull, but I am lucky in that my bull had quite a high terminal figure to meet the requirements of the scheme".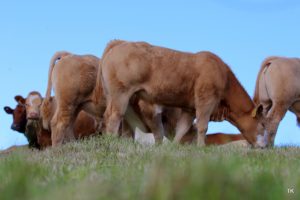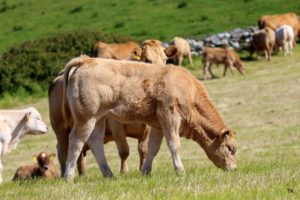 Examples of WHINFORT ISSAC's progeny 
How are John's Charolais progeny performing where it counts?
With the bullocks being reared and finished on his farm, John states that he aims to have his bullocks achieving their maximum weight by 30 months of age and that "the heavier they are, the better".  The reasoning for selecting to convert his bull weanlings into bullocks is because he felt the under 16 month bull beef system was quite intensive. He wanted to allow his Charolais animals to develop more naturally.  The kill out weights for his animals come into an average of 430kgs – 440kgs dead weight, with some of the most recent animals slaughtered achieving a high of up to 470kgs.  Whilst reaching these weights, John is also achieving grades of between a U+ to R=.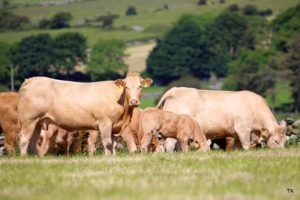 Traditionally the farm would try to finish Charolais bullocks off grass in September, but in recent years John has been killing them earlier in the summer to meet factory demands.  The heifers on the farm are kept up until they reach a target weight of between 500kgs – 530kgs, and would be sold as store animals in the local mart in Ballyshannon.  He consistently see's repeat custom for his quality heifer's year on year as he sells them.
John places great faith in his Charolais sire as he states that "his performance is everything I want" and that "he ticks all the boxes when it comes to easy calving".  'Issac' has a calving figure of just 6% and he explained that "on this farm I need an easy calving bull, quite simply because you are going to find it hard to get someone to calve a cow with you at 3 am in the morning".
In conclusion, having used Charolais on his farm for the past 30 years, John always noted that "it is hard to beat the Charolais weanling or store animal as they have always been and will always be in demand, especially around this area".  A quote which is regularly used by both buyers and commercial farmers using Charolais sires on their farm.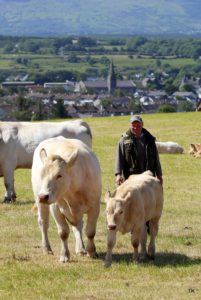 John Barron with one of his Charolais Cross Cow's and Calf on his Farm in County Donegal