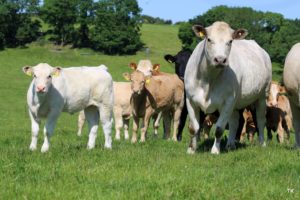 Charolais cross cows and calves on Michael's Farm 
Michael Naughton hails from County Roscommon where he runs a 60 cow, spring-calving suckler herd full time. He bases his production around two systems, these being both calf to weanling and calf to beef. Michael's cows consist of Charolais, Limousin, Hereford and Angus, with a minority of the herd being directly linked back to females from the dairy herd.  He states himself that his cows are average sized and not overly big, but are all functional when it comes to milk and fertility which is important.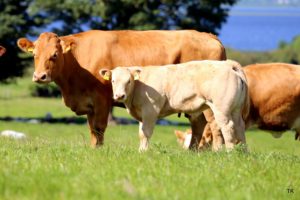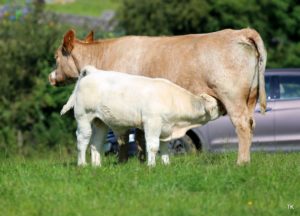 Cows with Charolais cross calves on Michael's farm
"I have always liked the Charolais breed, they are quiet and easy fleshed" Michael Naughton
A Charolais sire has been used on Michael's farm since he first purchased a bull in the late 70's.  His current Charolais stock bull 'BRONX JAMES' is sired by 'Crossmolina Euro' and out of a dam sired by 'Enfield Newlook'.  'James' was purchased at the Irish Charolais Society's Premier sale in Elphin Mart in 2016. Being a participant in the BDGP scheme and aiming to slaughter heifers from this bull, Michael felt the terminal index was important when purchasing his stock bull.  His bull possesses a high terminal figure of €140, which ranks him as a 5 star bull across all beef breeds. He also ranks in the top 10% within the Charolais breed for docility, carcass weight and carcass confirmation.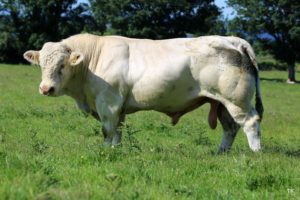 Stock bull Bronx James 
The majority of Michael's heifers are finished and slaughtered in either Kepak in Athleague, Co. Roscommon or Dawn Meats in Ballyhaunis, Co. Mayo.  The heifers would be achieving an average dead weight of 340kgs – 350kgs with all being slaughtered at 2 years of age or under.  He insists that he is always happy with how his Charolais animals grade out in the factory, as they are always consistent.  His Heifers achieve mostly U to R grades.  Currently he is achieving an average of €1,400 at slaughter for his heifers with some heifers recently reaching as high as €1,700, which are a tremendous boost for his on farm profit.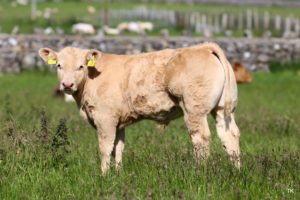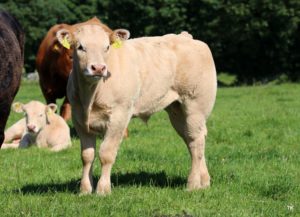 Charolais cross calves on Michael's farm 
When it comes to selling the bull weanlings, Michael was quick to note the repeat custom he receives for them, year after year.  A percentage of the farm's weanlings are sold privately at home and then the remainder of his weanlings are sold in his local mart in Roscommon. This year they are selling to an average of €930 at an average weight of 350kgs. This clearly highlights the demand for his quality Charolais weanlings.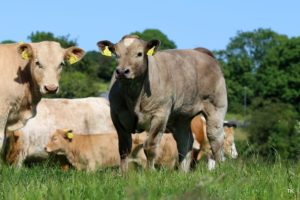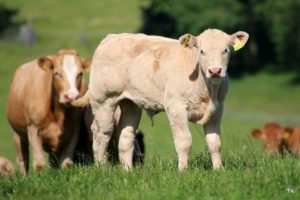 More Charolais cross calves on Michael's farm
Commenting on his stock bull's performance, Michael states that his bull "is not producing tall light animals, but rather animals that are more stockier and are easily fleshed, which is what I want from my animals".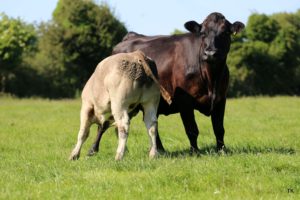 A typical example of the type of cow and Charolais calf on Michael's farm
The docility of his bull is something which Michael is quick to highlight and explained that "he always liked the Charolais breed, for the simple reason that they are quiet and easily fleshed". The one thing that must be noted from this farm is the ability of a Charolais sire to cross on a wide range of different cow types. Reiterating the fact, Charolais, the breed to improve all breeds.