Not far from Strokestown in County Roscommon, Michael Connellan and his son Jack have established a top quality suckler herd. The herd has become renowned for producing outstanding weanlings every year. The cows are mostly LMX and CHX, all crossed with a Charolais stock bull. They run approximately 20 cows and operate a split calving system between Autumn and Spring. The offspring are all sold as weanlings between eight to ten months old, in their local Mart in Elphin.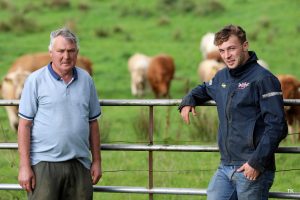 Michael and Jack Connellan 
During their time farming the Connellan's have enjoyed remarkable success at the weanling shows and sales in Elphin, consistently picking up rosettes every year, against some of the best weanlings in the Country. They have found that the quality of their weanlings is very consistent due to the breeding, nutrition, and care management that they provide. The grassland management, genetics, and techniques that they operate on enables the herd to continually flourish. Two cows from the herd also came second in the Irish Charolais Super Suckler Cow and Calf Competition held in Elphin Mart last year. The pair's greatest success to date however came this year when the herd was placed first in the small herd's category of the Irish Charolais Suckler Herds Competition.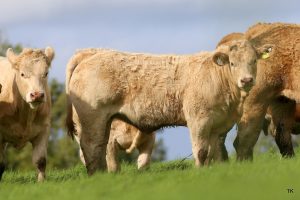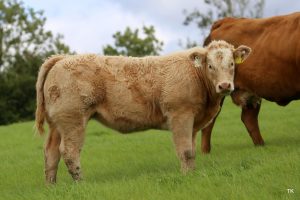 Spring born Charolais cross weanling heifers on the farm
In recent year's the herd has sold weanlings to Dovea Genetics for PR exercises, and the Irish Cattle Breeding Federation for research purposes. The herd's key performance indicators also back up the quality of the cattle. The average calving interval of the herd stands at 388 days and the number of calves produced per cow per year was 0.99 last year.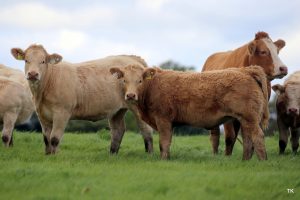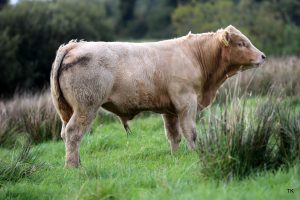 More Charolais cross weanlings on the farm
The Connellan's have always run a Charolais stock bull, simply because they believe they are 'the best'. The current bull on the farm is Williamstown Mixey, a son of Pirate, out of a TZA bred dam. He was purchased from Aiden Farrell at a Society Show and Sale in Tullamore in 2017, and it is fair to say he is producing the goods. The first batch of weanlings to be sold this Autumn went to Elphin Mart earlier this week. At an average age of 9 months old, the weanling bulls averaged €1,432 at an average weight of 420kgs. The weanling heifers averaged €1,290 at an average weight of 387kgs. The Connellan's top heifer went under the hammer at €1,500, with the top priced bull in the batch hitting €1,640 at 430kgs. The prices speak for themselves.